Our San Francisco
Our favorite city destinations
Bakeries & Confectioners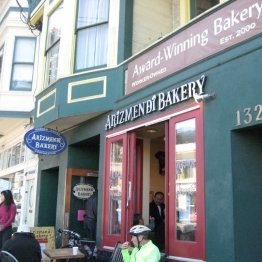 Arizmendi Bakery
1331 9th Avenue
Inner Sunset
Worked owned since 2000, this bakery and pizza cooperative is one of the best in town. The menu is so San Francisco littered with vegan and gluten-free options. Gluten-free Blueberry Scones and Brownies for those gluten-sensitive folks that probably have not enjoyed either in some time. Eat baked goods to your gluten-sensitive heart's content!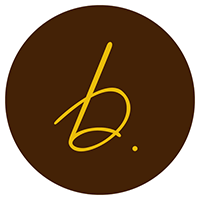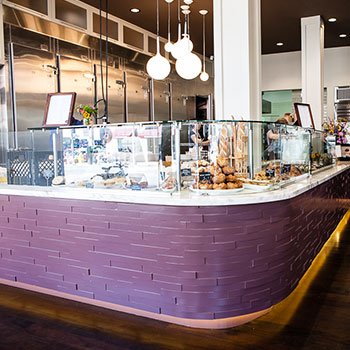 b. Patisserie
2821 California Street
Lower Pacific Heights
If you are looking for heaven in the form of beautifully crafted pastries and desserts then this is the spot. When you enter you will be enveloped by the sweet smell of goodness. I highly recommend the Kouign Amanns (pastry with crispy flakey layers of buttery perfection) they're the best in the bay area and guaranteed to bring joy to all.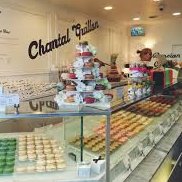 Chantal Guillon Macarons & Teas
437 A Hayes Street
Hayes Valley
They specialize in French macarons and they do them very, very well. Depending on the time of year, you can get your hands on flavors like Blood Orange and Blueberry Creme Fraiche, but it's their standards like Sea Salt Caramel and Red Velvet that keep me going back. Stop by and grab a dozen (or two) to take with you or meet a friend and share a pot of tea and macarons.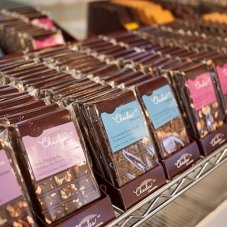 Charles Chocolates
535 Florida Street
Potrero Hill
If you believe tea and chocolate make the perfect pairing, you will need to make this place part of your San Francisco experience. Make a reservation for their San Francisco take on the Sunday afternoon tea or to attend a Chocolate Tasting and Talk. Don't forget to grab some chocolate on your way out. If you cannot decide, start with the Triple Chocolate Almonds. Oh, and they really like hosting special events there. Why not start your next business meeting with a chocolate tasting??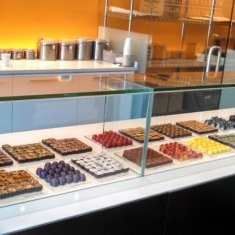 Christopher Elbow
401 Hayes Street
Hayes Valley
Kansas-based chocolate artist Christopher Elbow's creations are not like edible sculptures, they ARE. Tiny pieces of art are packed with amazing flavors guaranteed to become instant favorites. Strawberry Balsamic and Rosemary Caramel are a couple of must-trys. And, if you are a connoisseur of hot chocolate, this is your place. You can create your own with your desired sweetness and cocoa intensity.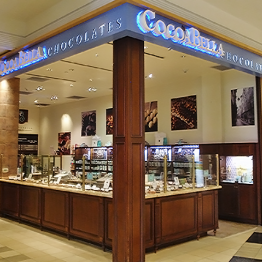 CocoaBella
845 Market Street - Westfield San Francisco Centre
Union Square
Conveniently located at street-level of the Westfield Shopping Centre, this is my go-to spot for a "Just Because" or "Thank You" gift. They are true curators of chocolate. Members of the friendly staff are more than happy to help you put together a custom box of 20, 32 or 48 pieces of fabulous goodness. Create a signature box and give them as gifts. You really cannot go wrong.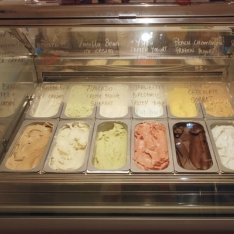 DeLise Cafe
327 Bay Street
North Beach
The only sandwich you'll find here is one made of artisanal ice cream. It is a straight up dessert cafe and nothing else. In this part of North Beach, there is no place like this. Stop in for a coffee and a freshly baked bar or cookie. Or pick some up for a meeting by calling ahead.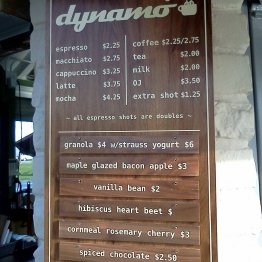 Dynamo Donut & Coffee
110 Yacht Road
The Marina
Ever drive two miles out of your way for a donut? You do when they are flavors like Maple Glazed Apple Bacon, Cornmeal Rosemary Cherry, and Apricot Cardamom. You also get a dozen for your workmates 'cause it's rude to just shove one into your mouth before you enter the office. There are two locations, both of which I totally go out of my way for: The Marina and The Mission.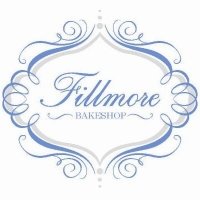 Fillmore Bakeshop
1890 Fillmore Street
The Fillmore District
Perhaps not the most ideal if you're looking for a quiet morning coffee spot since the mornings are bustling with folks picking up various pastries. Order a Strawberry Soiree cake or the Croquembouche for the next office birthday or celebration and you'll make all your colleagues very happy. Make sure you're not stopping in on a Monday as is the case for many other business on this block of Fillmore, it's closed.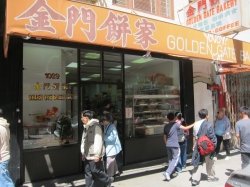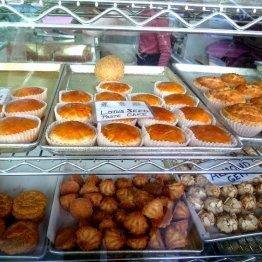 Golden Gate Bakery
1029 Grant Avenue
Chinatown
Nothing fancy about this establishment. But, who cares about fancy when you have egg tarts made to perfection?? Again, the line can seem ridiculously out the door, it's so worth it. They're open practically everyday of the year. However, they will close their doors for up to a month at a time, perhaps to clean? I don't know, it doesn't matter. This bakery is such a quintessential San Francisco Chinatown experience!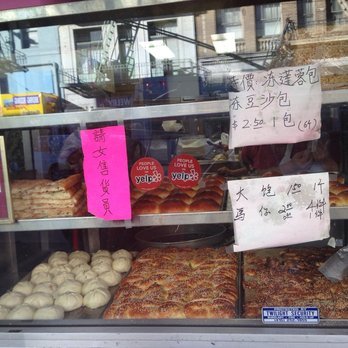 Good Mong Kok Bakery
1039 Stockton Street
Chinatown
This portion of Stockton Street in Chinatown can really make you forget where you are. Not much is written in English so it's a good idea to know where you are going before venturing this thoroughfare. There is always a line out the door, partly because the space is teeny-tiny, partly because it's where every Chinese person in this part of town goes to for dim sum and Chinese backed goods. Be not afraid, get in line and take home some and "dim sum!"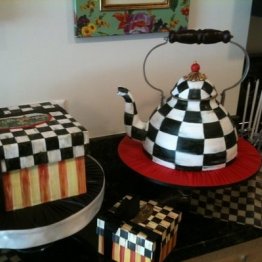 Jasmine Rae Bakery
1890 Bryant Street
The Mission District
Cakes resembling a football helmet, your favorite pair of Louboutins or even bark on a tree, it is amazing what pastry chefs are doing with frosting and fondant these days. Well, if one of these cakes of whimsy are in your future, may I suggest this bakery. Not only will it look amazing, it will taste just as good. The innovation and creativity that goes into the cake flavors will totally overwhelm you, in all the good ways.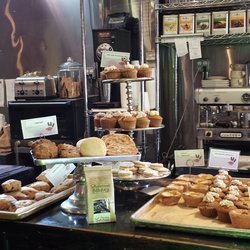 La Victoria Panaderia
2937 24th Street
The Mission District
In 1951 Sr. Maldonado opened his first panaderia in San Francisco and we have been the lucky beneficiaries of this decision. They kept it all in the family and today it is victoriously run by a passionate decedent of the family. Somehow they have been able to retain the charm and goodness of the original pan dulce recipe and reinvent just enough to stay relevant by adding cupcakes and other more popular pastries. In a world of paleo diets and raw foods, viva la carbs!!!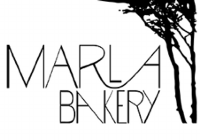 Marla Bakery
3619 Balboa Street
Richmond
This place is everything a cafe should be: warm, inviting and lots of good food! Situated outside the hustle and bustle of city life in the Outer Richmond neighborhood, this cafe is perfect for a Sunday brunch or, if you're lucky enough to be in town, for their monthly Sunday Supper. Call for reservations to either and you will not be disappointed.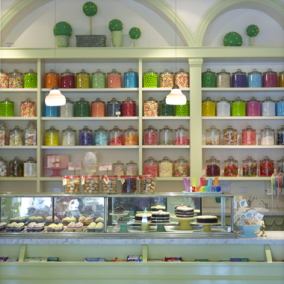 Miette
449 Octavia Street
Hayes Valley
Cupcakes, fancy cakes and candy, lots of candy! Now, you will not find candy bars of chocolate filled with peanuts and nougat. What you will find are Tube of Rose meringue rosettes, Salty and Sweet Dutch licorice and fresh vanilla marshmallows. A bonus: they will ship pretty much anywhere. So you can surprise special someones with confections galore.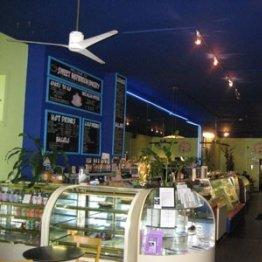 Sweet Inspiration
2239 Market Street
The Castro
This place is a great alternative to the bar scene in this part of town. They're open till 11 most nights, even later on the weekends and it's where you can get a homemade slice of Chocolate Au Noisette cake and a coffee at 10pm. They are a genuine mom-and-pop and you'll feel good about supporting this charming local business pair. It's a quick ride down Market Street from Union Square.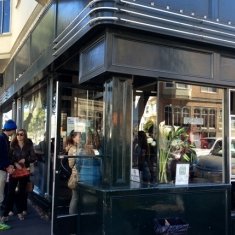 Tartine Bakery and Cafe
600 Guerrero Street
Mission District
I don't think there is such a thing as down time for this place. Perhaps only when it is closed. Every moment it is open you will find a line at least 15 people deep, which is considered a short wait. Is it worth it?! Of course, it is. You can bet if there is a line outside a San Francisco establishment that it is worth every minute. The Jambon Royale & Greyere or Fromage Blanc & Banana Hot Pressed Sandwiches are perfect for lunch!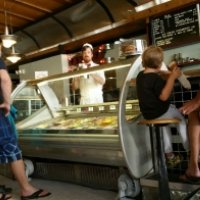 The Ice Cream Bar
815 Cole Street
Cole Valley
Some of the best ice cream I have had is in this foggy city, believe it or not. Though the weather may not move you to frozen scoops, the creative flavors and artisanal quality of The Ice Cream Bar will. It's like you've stepped into an old-fashioned ice cream parlor, complete with a soda fountain. The last time I was there, I had a two-scooper, one basil and one creme fraiche with marshmallow fluff. They even roast the topping with a tiny blow torch. Take your inner child in for a sundae or meet a friend and reminisce. I think I need some right now...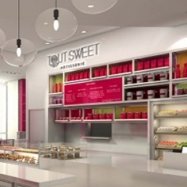 Tout Sweet (inside Macy's Union Square)
170 O'Farrell Street, 3rd Floor
Union Square
Nothing like a candy shop to bring out your "inner child". Situated in the heart of Union Square on the 3rd floor of the Macy's department store, you will find the brainchild of renown Chef Yigit Pura and event planners, MeMe Pederson and Janet Griggs. Lemon Meringue Kisses, Raspberry-Fig Balsamic Pate de Fruit, and Cherry Bourbon Macarons have to be in your basket. The clean, modern atmosphere makes for a great afternoon business meeting spot.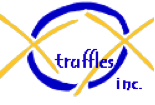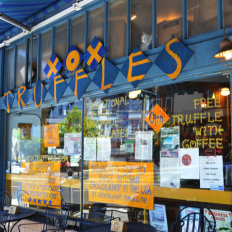 XOX Truffles
754 Columbus Avenus
North Beach
If you blink, you might miss it. About a mile north of Union Square, XOX Truffles is probably one of the few non-Italian establishments on Columbus Avenue in North Beach. You can get authentic French-style truffles in flavors ranging from the traditional milk and dark chocolates to the more exotic Earl Grey and Matcha Green Tea. Order an espresso and you get a free truffle of your choice and discover why it is impossible to walk out without a box or two.