Our San Francisco
Our favorite city destinations
Neighborhoods & Shops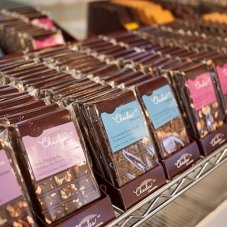 Charles Chocolates
535 Florida Street
Potrero Hill
If you believe tea and chocolate make the perfect pairing, you will need to make this place part of your San Francisco experience. Make a reservation for their San Francisco take on the Sunday afternoon tea or to attend a Chocolate Tasting and Talk. Don't forget to grab some chocolate on your way out. If you cannot decide, start with the Triple Chocolate Almonds. Oh, and they really like hosting special events there. Why not start your next business meeting with a chocolate tasting??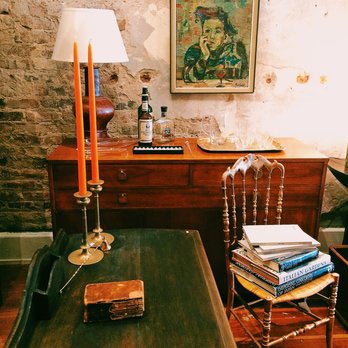 d. zelen
1228 Sutter Street
Lower Nob Hill
d.zelen is my favorite shop for thoughtful gifts, home accents and decor. Most Items in this shop are native California pieces that range in style from early American classic to midcentury modern. Small items for gifting are made by local artists, using local materials. Expect to find such items as unique stationary, old monogram books, candles, vintage barware, hand-sewn lavender sachets and hand-pressed sea mosses.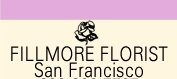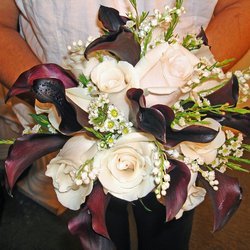 Fillmore Florist
1880 Fillmore Street
The Fillmore District
Unlike its neighbors, this family owned and operated florist is open Mondays. I was enamored by the colorful mini callas and had to stop in for a bunch. There is a kind of smile that fresh flowers put on your face. Pick some up after a trip to the bakery next door and really make someone's (or your) day!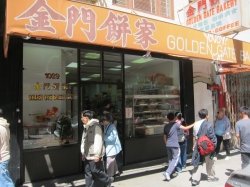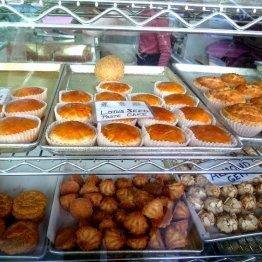 Golden Gate Bakery
1029 Grant Avenue
Chinatown
Nothing fancy about this establishment. But, who cares about fancy when you have egg tarts made to perfection?? Again, the line can seem ridiculously out the door, it's so worth it. They're open practically everyday of the year. However, they will close their doors for up to a month at a time, perhaps to clean? I don't know, it doesn't matter. This bakery is such a quintessential San Francisco Chinatown experience!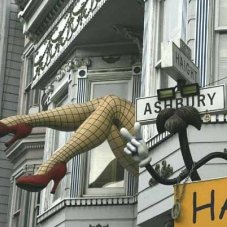 Haight-Ashbury
Haight-Ashbury
Haight-Ashbury
Haight-Ashbury is well-known for its occupation by hippies and squatters, which is what makes this part of San Francisco filled with so much personality. Present day, Haight Street has retained much of its bohemian groove. You will not find much in corporate branding here as most businesses are locally owned, materials locally sourced. Some of the most unique shops make their homes in this neighborhood, find books on anarchist politics, grab some robots for the kids, then acquire that perfect skull candle you've been looking for!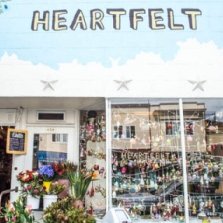 Heartfelt
436 Cortland Avenue
Bernal Heights
This charming little Bernal Heights general store takes whimsy to a whole new level. Most of the store's goods are made by loving hands of local artists. So if you need a store where you can procure everything from live plants to animal-head place card holders and handmade penguin ornaments, you;ll have to drop by. Grab a coffee at Pinhole and stop in on your way up to the park.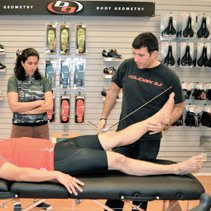 High Trails Cyclery
1825 Polk Street
Civic Center
So, this bike shop offers the services it's counterparts do, and then goes one step further. Their signature service is called "BG Fit" which is a comprehensive assessment of body geometry as it relates to riding. Many San Franciscans rely on cycles as their main mode of transportation so a service like this sounds invaluable. Of course your body and how it works should influence how your bicycle is tuned, fixed or even built. There really is nothing comparable. If you're not a cyclist, tell all of your friends who are about this place!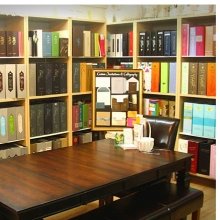 Hyegraph Invitations & Calligraphy
3 Embarcadero Center
Embarcadero/Financial District
There really isn't another place that does custom stationery and calligraphy works as well as this place. They have been commissioned by firms the world over as well as local companies such as the San Francisco Opera and de Young Museum, to create custom invitations and other correspondence. I am confident they can handle any order you throw their way. Make sure to visit during the weekday.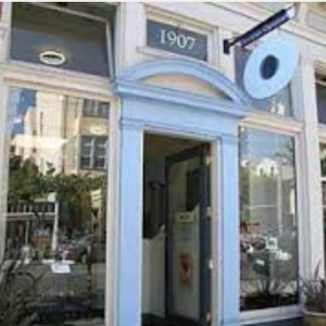 Invision Optometry & Eyewear
1907 Fillmore Street
Lower Pacific Heights
OK, let's make this clear (pun intended) if you need a new pair of glasses, the best frames you will ever wear and serviced by the most experience customer service folks in this little city by the bay will be from Invision Optometry & Eyewear... ask for Lisa. Tell her, Douglas suggested for you to stop in. From that moment on and not because of dropping my name (as they are complete professionals to anyone and everyone regardless) you will be in good hands. I am a bit obsessive regarding a few things in my life one being my eyeglass frames. When I select a frame it will be after walking into 30 shops in many cities and try-on hundreds of pairs as my decision is not for one year but for 10 years or more. The last time, 13 years ago, I purchased 5 frames and as it goes with travel and life I destroyed them or left them on a plane. I just picked my new frames and hope to get a few more years out of this decision given I purchased 8 frames this time. Both times finding my super beautiful frames (if frames can be beautiful) at Invision. They are the best at updating your prescription, as well. This is a neighborhood gem and the rest of the street is filled with great shops and cafes.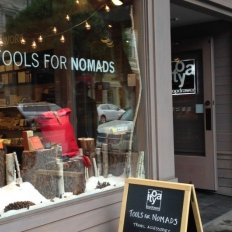 Itoya Topdrawer
1840 Union Street
Marina
"Tools for Nomads" is etched on their storefront and it's so true. This place has everything to help the traveler stay organized and stylish while doing so. Leather wrapped ballpoints and clever business card holders are some unique gift ideas. It's worth browsing, go on in!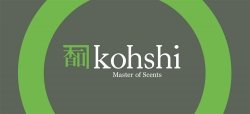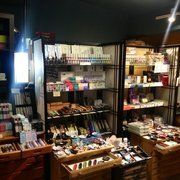 Kohshi Master of Scents
1737 Post Street (inside Japan Center Mall)
Japan Town
The Japan Center Mall is located just about a mile from Union Square and is spilt into East and West buildings. In the West Mall Building, sit this cozy space that houses a variety of creative scent combos in the forms of incense, candles and soaps. They make perfect gifts that are easy to transport and take home.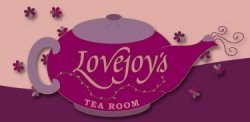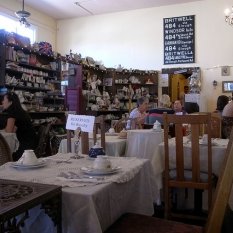 Lovejoy's Tea Room
1351 Church Street
Noe Valley
This Noe Valley treasure is one of the most family-friendly tea spots is town. Complete with an "Alice in Wonderland" tea party garb of mis-matched tea cups and blossoms galore, it's the perfect place to host a tea or to have your afternoon tea.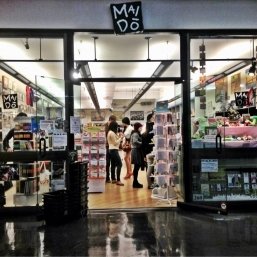 Maido Fine Stationary & Gifts
1581 Webster Street
Japan Town
I pop into this quirky little stationary store at least once a month. You can find pens in all sorts of colors and in all sorts of points, from fountain to gel. There are just as many choices in paper. Located inside the shopping center in the heart of Japan Town, about a mile from Union Square, it's super convenient and great to pair with a bubble tea trip.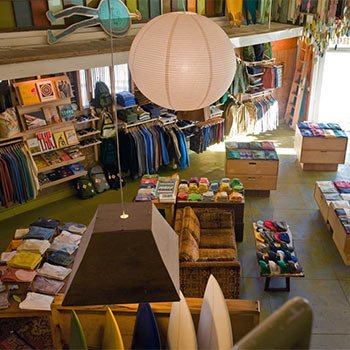 Mollusk
4500 Irving Street
Sunset District
Great surf shop with lots of beach stuff and rock 'n' roll records. Good vibes all around.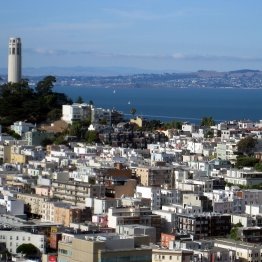 North Beach
North Beach
North Beach
North Beach is just as well known for beatniks subculture as it is known for the large Italian immigrant population. The latter is still very relevant in this part of San Francisco as evidenced by the green, white and red striped lampposts scattered throughout. Sidewalk cafes and restaurants line the main street of Columbus Avenue, some owned by really famous Italian folks (eh-hmm, Francis Ford Coppola's Cafe Zoetrope). So, grab an expresso, walk up Coit Tower, then stop into one of the many Italian cafes for an amazing meal!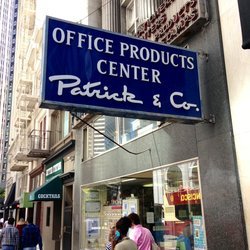 Patrick & Co.
560 Market Street
Financial District
Patrick & Co. has been a part of the San Francisco landscape for over 140 years and once you step into one of their three stores in the city, you'll know why. Their longevity and success as business staples of this grand city are due to their dedication to consistent standards and service, and fair prices. For all of your customizing needs, this is the place to go. Their staff, at all locations, are friendly and super knowledgable about paper!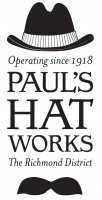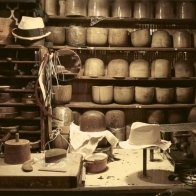 Paul's Hat Works
6128 Geary Boulevard
Richmond
Paul can't be found there any longer but his legacy of amazing hats lives on via the four wonderful ladies who took it over a few years ago. They haven't changed the store much and it has retained the charm of a miller's workshop. Whether you are in the market for an everyday felt hat or a perfect straw hat for those warmer days, it's so worth getting one that fits you snuggly. Treat yourself and get fitted for a bespoke hat. The experience is unique and very San Francisco.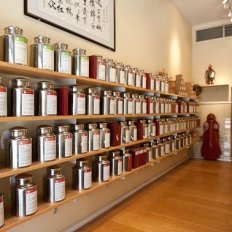 Red Blossom Tea Company
831 Grant Avenue
Financial District
They are second generation tea artisans and they know what they're doing. Only recently has their menu been translated into English though their tea knowledge spans over many years. Try their herbal Elderflower tea or the rare orchid tea and you'll never look for another place to get your tea. Take some home with you, you won't be sorry.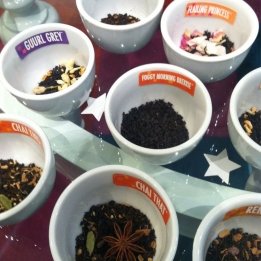 T-WE Tea
50 Post Streeet
Financial District
At first glance you might think this place is a bit hipster-ish and what would they know about tea? Well, it is very hipstery, so what? And, they do know so much about tea, perhaps more than other purveyors in the area. They have fully embodied the art and craft that goes into creating the perfect tea leaf. The names of the teas are so clever and fun. You may not be able to sit and enjoy it here, but you'll find something to take with you. Makes great gifts for the tea lover(s) in your life!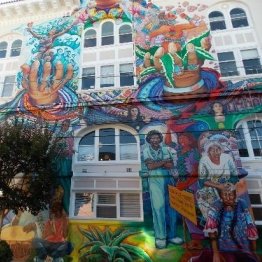 The Mission District
The Mission District
The Mission District
The Mission is by far the most colorful part of San Francisco, literally. From the transient murals of Clarion Alley to the intricate paintings that encase buildings, The Mission is home to so much art. The human landscape is pretty colorful too. There are deep Spanish and Native American roots seeded in The Mission and have influenced the types of restaurants and businesses that have made their starts here. You can find the best pan dulce, carnitas and tamales in this part of town. Grab a coffee from one of the many cafes in the area and stroll down Mission Street, taking it all in.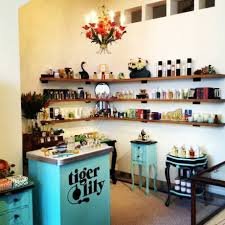 Tigerlily Perfumery
973 Valencia Street
Mission
"(Perfume) is the unseen, unforgettable, ultimate accessory of fashion. . . that heralds your arrival and prolongs your departure" - Coco Chanel. If you are looking for that little something special for yourself or a loved one that will make a lasting impression you will find it at Tigerlily Perfumery. They carry rare and hard to find perfumes from all over the world that will have you daydreaming about the spice markets in Morocco or the fresh sweetness of the sea breeze off the Gulf of Tonkin.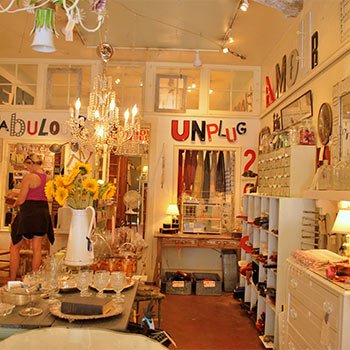 Timeless Treasures
2176 Sutter Street
Lower Pacific Heights
A romantic little vintage shop with Parisian flare. Timeless Treasures offers a whimsical selection of handmade french jewelry, vintage stationary, cards, candles and so much more. It's the perfect place to shop for that special someone or to find that special vintage piece with a story behind it.
Union Square
Union Square
Union Square
Union Square itself is a plaza located in the center of all the best shopping in San Francisco and houses an ice-skating rink during the winter holidays. Over time the surrounding area has become home to department store giants such as Macy's, Nordstrom, Barney's, Saks Fifth Avenue and Neiman Marcus, not to mention all the high end luxury shops occupying neighboring spaces. So convenient for the avid shopper to successfully acquire all the wares the heart desires! If you need accommodations, there are many historic hotels to choose from.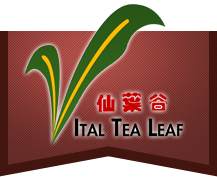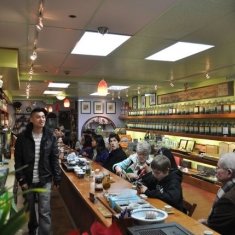 Vital Tea Leaf
1044 Grant Street
Chinatown
This is the original house of Uncle Gee. He's kind of a local Chinese tea icon. If you're lucky enough to be in the store when he's there, clear out the rest of your plans that day, take a seat and be ready for the most entertaining, informative tea experience of your life! Then take some home. Need ideas? The Supreme White Peony is a pretty good bet. If you're into Pu-Erh, be bold and try the 25-year aged, hand-pressed tea cake.