Our San Francisco
Our favorite city destinations
Cocktails & Conversation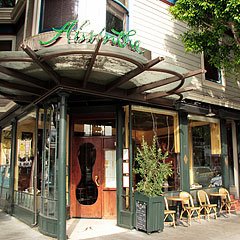 Absinthe Brasserie & Bar
398 Hayes Street
Hayes Valley
Absinthe is within blocks of the Performing Arts Center and great place to grab a meal before a concert or show. During opera season, they offer a prix fixe menu complete with a dessert to go (usually macarons!). The menu does change with the seasons, so their delicious Spanish Octopus salad may not be there forever.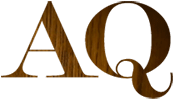 AQ
1085 Mission Street
SOMA
Located in San Francisco's Soma neighborhood, AQ does not hold back when it comes to offering its patrons a phenomenal dining experience. Everything from the food, beverages, decor right down to the tabletops and staff uniforms is all perfectly curated to seamlessly flow from season to season.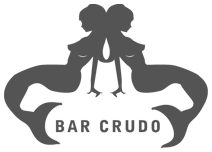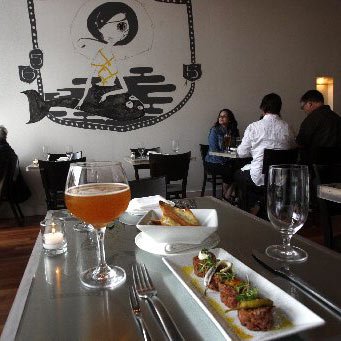 Bar Crudo
655 Divisadero Street
Alamo Square/ Western Addition
The Scene: laid-back & unpretentious. The food: Seafood with a bit of a Japanese influence. The wine: Awesome selection and the waiters offer up a generous pour. The picks: Go for the seafood chowder and the lobster beet salad. You can thank me tomorrow.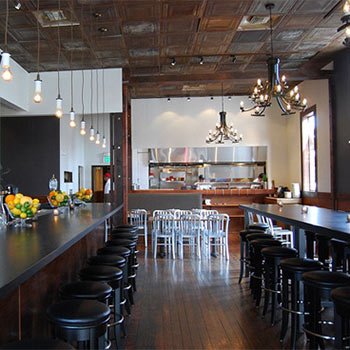 Beretta
1199 Valencia Street
The Mission
There is something to be said about consistency and Beretta has this down to a science. Located in the Mission District, Beretta is a hip restaurant that offers up well crafted cocktails and simple italian fare that will not disappoint. Just make sure to save room for the Panna Gelato with extra virgin olive oil and sea salt.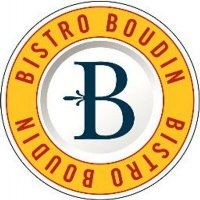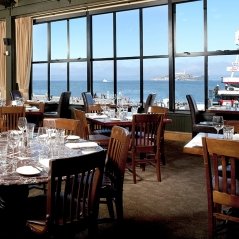 Bistro Boudin
160 Jefferson Street
The Wharf
Sourdough bread and bay views are two very distinctly San Francisco elements. A visit to this beautiful city would not be complete without a clam chowder bread bowl and you really should have one by the water. Plan your next event in their private dining room on the waterfront , which can hold up to 30 guests and you can even include a trip to the adjacent museum. People will be talking about your event for weeks!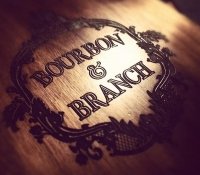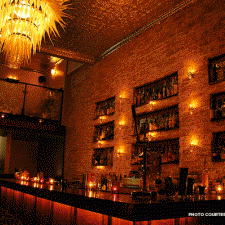 Bourbon & Branch
501 Jones Street
Union Square
The decor alone is worth the rigamarole it takes to actually get inside. In proper Speakeasy form, you will not find a sign or an usher checking ID's. You will need to go onto their website, make a reservation to be given the instructions on how to enter. If even the thought of prohibition makes your hair stand on end, this is the experience for you. Take a friend or two along and share in the discovery!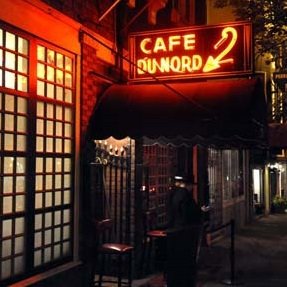 Cafe Du Nord
2170 Market Street
Upper Market
This music and food establishment sits below street-level and was originally a speakeasy during the prohibition era. It is now slated to be the new hip spot in Upper Market for live music, libations and food as The Bon Vivants in partnership with Ne Timeas Restaurant Group are planning to reopen it in June 2015. If it's anything like Trick Dog, it will be fabulous.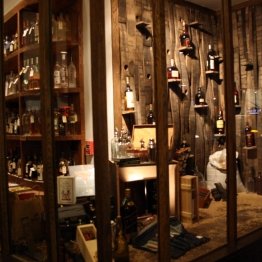 Cask
101 Spear Street
Financial District
Perhaps this is not the place for one looking for a cocktail, per se. For the connoisseur of spirits this is place is a haven. Very knowledgeable and friendly staff will happily guide you toward that perfect bottle of single malt scotch or small barrel bourbon. Meet a friend or two for a tasting.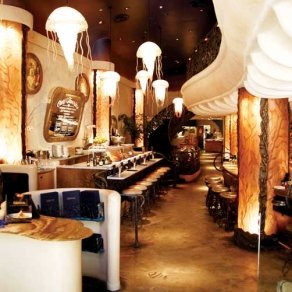 Farallon
450 Post Street
Union Square
The underwater theme lines the entire restaurant and is done in such a classy way. Jellyfish chandeliers and octopus stools add not-so-sublte touches that really make the space pop. The menu is mostly seafood (surprise). The developers, recognizing the city's needs for private dining venues, added three rooms devoted solely to private parties and events. Whichever room you choose, you will have a kitchen dedicated to servicing your event.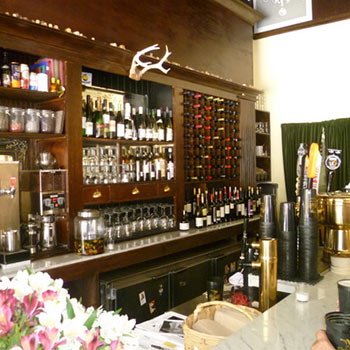 Fat Angel
1740 O'Farrell Street
The Fillmore
The Fat Angel is a warm and spirited wine bar that boasts one of the city's best wine lists. They also offer a cellar full of local and rare beers and wines. Other drink options include housemade Pimm's, champaign cocktails, and draught beers. The crowd is local and business casual.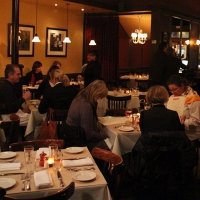 Florio Bar & Cafe
1915 Fillmore Street
The Fillmore District
This is charming Italian-French restaurant situated in the Fillmore District feels like the quintessential neighborhood restaurant, so warm and inviting, that you wouldn't necessarily think of it as a venue for your next meeting or event. The entire place is available on most evenings, or you can dine semi-privately and still feel the vibe of the place. Keep it in mind if you need a last-minute event spot.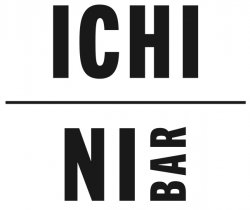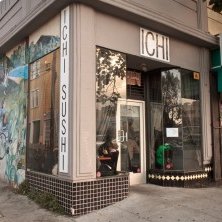 ICHI Sushi + NI Bar
3282 Mission Street
Bernal Heights
I know folks who make a special trip out to Bernal Heights just to have dinner here. It's a teeny, tiny space with a gigantic personality. The owners have done an amazing job and you can tell they approach their work with respect and care. I cannot recommend one thing, because it's all good! I would suggest omakase, the chef will not disappoint! If you have to wait to be seated, hang out at the bar. 1! 2!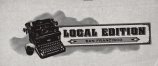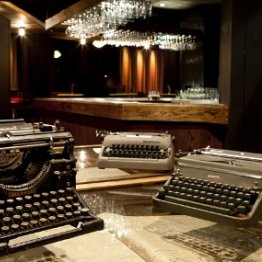 Local Edition
691 Market Street
Financial District
What can I say other than that I am a total sucker for vintage decor, especially when it is done tastefully, thus right. If its moniker doesn't clue you in, the typewriters display may give way to the newspaper motif. If you are planning an event of more than 15 people, you might want to look into booking space here. It also makes for a great place for conversations and you can make a reservation to ensure a place to sit or if you prefer to stand, there is plenty of room to do so.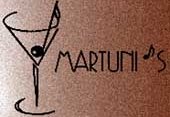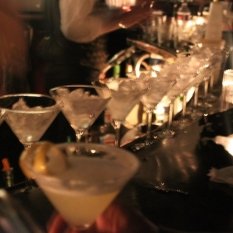 Martuni's
4 Valencia Street
SoMa
If martinis and live piano is what you're in the mood for, you need to go to Martuni's. It's a great place for igniting conversations with your friends/colleagues or with some new folks you met at the bar. It's a favorite among the SF musicians/performers and you can usually spot entire troupes after their performance. The Mango Melon Martini is an excellent choice or ask the bartender for special martini offerings. Listen for the piano and belting of show tunes from the back room. Join them, it's fine.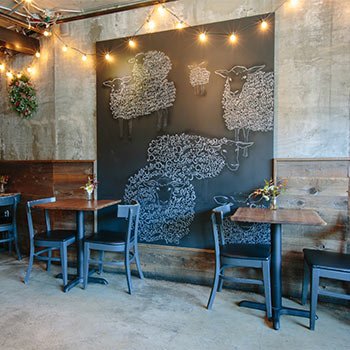 Mission Cheese
736 Valencia Street
The Mission
Mission Cheese is small, wonderful cheese and wine spot down in the Mission District. With a beautiful bar and outdoor seating, Mission Cheese is a great spot to check out and fall in love with. The venue also serves a variety of prepared meats and the staff are knowledgeable and helpful in there recommendations.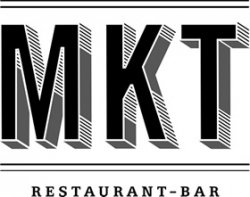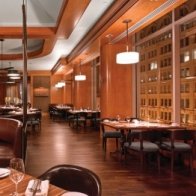 MKT at the Four Seasons
757 Market Street
Financial District
Business meetings are so much more interesting held outside of the conference room. Place your next meeting as a private dining experience and let the Four Seasons take care of everything you need. They can host semi-private parties of eight to exclusive parties of 40. With the splendid San Francisco city scape as your backdrop, especially from their Windows Private Dining Room, it's sure to ignite some interesting conversations.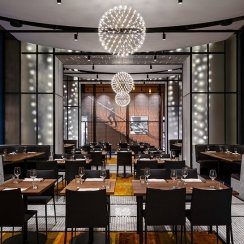 Mourad
140 New Montgomery Street
SOMA
This upscale Moroccan restaurant is located within a comfortable walking distance from Union Square on New Montgomery, just south of Market Street. The glamorous interior is the perfect backdrop for the mediterranean delights that are about to hit your table. The menu is largely family-style and each item states how many it will feed. If you're not sure what to order, try the tasting menu. But, whatever you decide upon, make sure to start with the eggplant flatbread.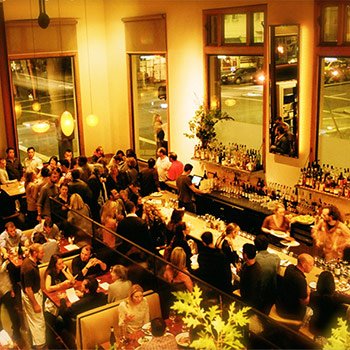 Nopa
560 Divisadero Street
Alamo Square
Nopa is a great spot to check out whether you're looking to get cocktails or grab a meal. You can't go wrong with this menu whether you're coming for brunch or dinner. A couple highlights: the custard french toast at brunch is buttery deliciousness and the rotisserie chicken is their signature dinner dish which is always a favorite.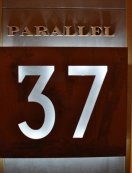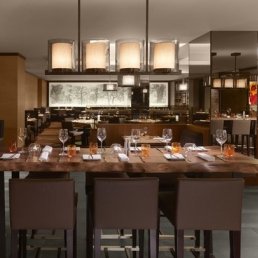 Parallel 37
600 Stockton Street
Union Square
At the edge of Union Square sits the Ritz Carlton, which is home to one of San Francisco's most popular culinary destinations. It's farm-to-table California fare at community tables. Even if you're not staying there, you might want to consider this spot for a breakfast meeting just so you can order the Dungeness Crab Eggs Benedict, which is their best dish.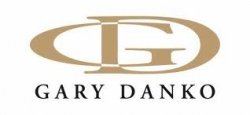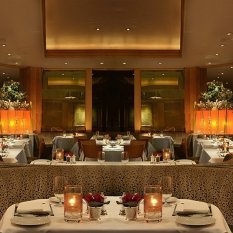 x
Restaurant Gary Danko
800 North Point
Marina
There is a two-month wait for dinner reservations, so you will have to plan ahead, a lot ahead. Once there, you can choose between a three-, four- or five-course prix fix menu. There isn't anything too crazy on the menu, just lots of good, elegant American cuisine. There is also a strongly-suggested dress code, err on the side of overly dressed and leave your jeans at home. Time and place, my friend.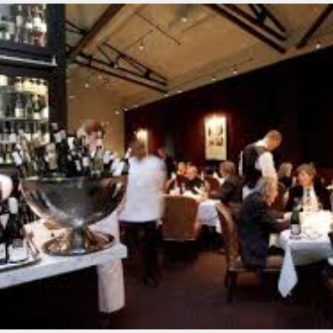 Spruce
3640 Sacramento Street
Presidio Heights
Spruce. Seriously, seriously one of the best dining experiences you will have in San Francisco. Period. But, I will tell more... perfect room, perfect service, perfect food, perfect drinks. This is a neighborhood gem where you will feel like you are actually in San Francisco with locals are folks who know this is an amazing place to have a serious dinner with clients, friends, romantic/sexy whatever... sit in the bar side and have a brilliant cocktail. Don't worry you will never find parking in this neighborhood as the valet is waiting for you instantly as you walk into an evening experience you will not soon forget. The private room on the right side of the restaurant is perfect for a formal client occasion or family event. But if you were to ask me what one of the most important reasons to go to Spruce you will discover (if you trust me me on this) order from the bar menu the Hot Pastrami Sandwich with the fries. If you are on the more formal side of the restaurant your server will know you are "in the know." When my wife says to me, "Let's go to a place that will make you very happy tonight." we hop on my Vespa, drive through the fog up and down the San Francisco hills and cruz up to Spruce. For some odd reason this place reminds me of the Eagles song Hotel California, minus the debauchery. Possilby.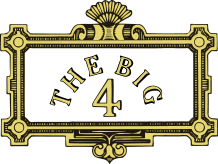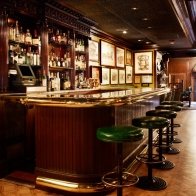 The Big 4
1075 California Street (inside The Scarlet Huntington)
Nob Hill
So much of the history of San Francisco is steeped in the railroad industry. The Big 4 was named for four of the industry's biggest players. Despite its recent renovations, the green leather club chairs, tuxedoed piano player and railroad themed cocktail menu will take you back to a time when opulence and elegance were defined by the actions of these Big Four Players, at least in San Francisco.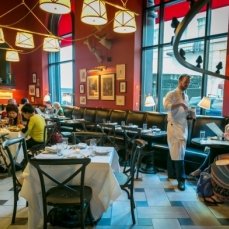 The Cavalier
360 Jessie Street
SOMA
If you're looking for a weekday lunch place that's just on the other side of special, this is it. This British-inspired gastro pub is located just south of Market Street and serves up quite the hearty lunch fare. If you're planning a lunch meeting or otherwise corporate event, call them. Ask for the room that has the speakeasy feel, your guests will be intrigued and inspired.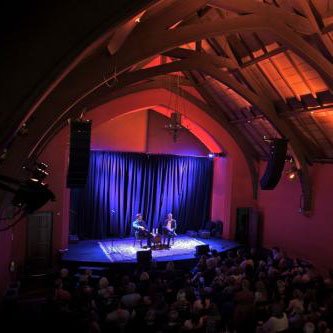 The Chapel
777 Valencia Street
The Mission
A new addition to Valencia Street, The Chapel is a restored Mortuary turned music venue that serves up superb cocktails, comfort food and an extensive calendar of live musical acts. The acts very from night to night offering up a little something for everyone and definitely making for an eclectic scene.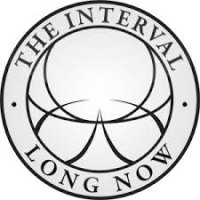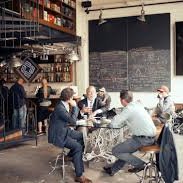 The Interval at Long Now
2 Marina Blvd. Building A
Marina/Pacific Heights
Take a break from the hustle and bustle of The City without leaving The City and head over to The Interval at Long Now located in Fort Mason. The Interval is a crowd-funded gathering space, a floor-to-ceiling library, a museum and an art installation rolled into one. They serve fine crafted cocktails, artisanal teas from Samovar and coffee from another San Francisco favorite, Sightglass Coffee. The perfect place to be inspired, share ideas and conversation with friends or a perfect stranger.