Our San Francisco
Our favorite city destinations
Great Meeting Spots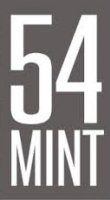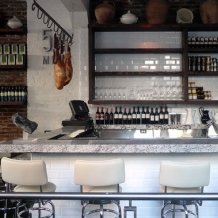 54 Mint
16 Mint Plaza
SOMA
Rustic Italian food and an inviting counter makes this a fabulous lunch spot in a very vibrant part of town. It's just a couple of blocks from Union Square, situated behind the Old Mint Building. They offer a prixe fix lunch menu (check their site for daily offerings) including fresh pasta. There is nothing like fresh pasta for lunch. Bravo!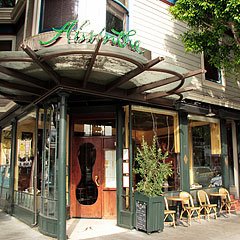 Absinthe Brasserie & Bar
398 Hayes Street
Hayes Valley
Absinthe is within blocks of the Performing Arts Center and great place to grab a meal before a concert or show. During opera season, they offer a prix fixe menu complete with a dessert to go (usually macarons!). The menu does change with the seasons, so their delicious Spanish Octopus salad may not be there forever.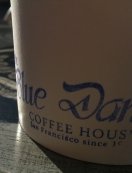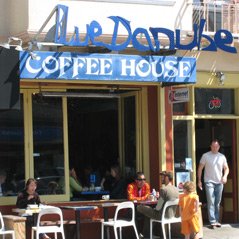 Blue Danube Coffee House
306 4th Avenue
Inner Richmond
This is a part of San Francisco where you can find a sunny morning, even when the rest of the city is still covered in fog. Many locals stop for their morning cup, so you get a real neighborhood joint vibe going on. In the evening it's a great spot to plop down with a book int he corner somewhere or meet someone for some good coffee and conversation. They're open till 10. Enjoy!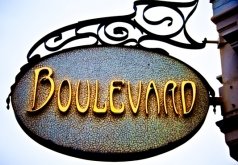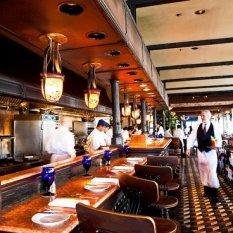 Boulevard
1 Mission Street
The Embarcadero
Where Mission Street starts sits this French-influenced American cuisine dining experience. I say experience because as you walk in you can feel the history of the building that was saved from fire in the earthquake laced with what feels like a scene out of Moulin Rouge. Just minutes from the Financial District and downtown, it's a lively spot for a lunch meeting.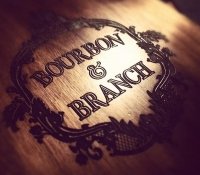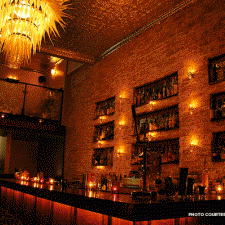 Bourbon & Branch
501 Jones Street
Union Square
The decor alone is worth the rigamarole it takes to actually get inside. In proper Speakeasy form, you will not find a sign or an usher checking ID's. You will need to go onto their website, make a reservation to be given the instructions on how to enter. If even the thought of prohibition makes your hair stand on end, this is the experience for you. Take a friend or two along and share in the discovery!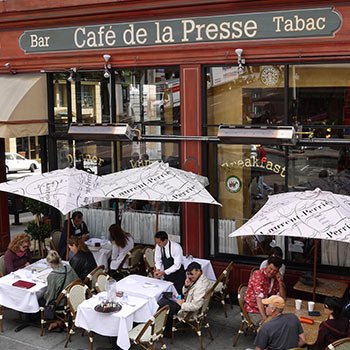 Café de la Presse
352 Grant Avenue
Financial District
The 'other' best French Onion Soup in SF. This place has been around for some time and the owner is super cool and treats this place as if it were in Paris. The perfect place to meet someone in the front cafe for coffee and the back is a little more formal, filled with San Francisco's financial folks at lunch.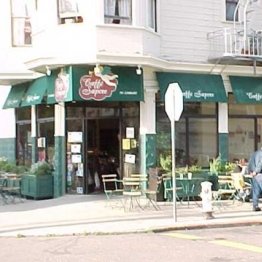 Caffe Sapore
790 Lombard Street
North Beach
Located at the intersection of Lombard and Taylor in the heart of North Beach, Caffe Sapore is a great place for your morning coffee or for a less formal meeting. The walls are covered with works from local artists and are usually available for purchase. The coffee is decent, but I make the trip for lunch: the Fred salad, substitute chicken with smoked salmon, you won't regret it.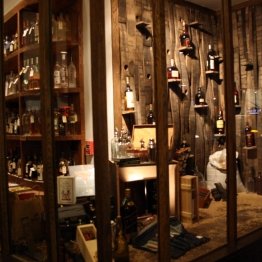 Cask
101 Spear Street
Financial District
Perhaps this is not the place for one looking for a cocktail, per se. For the connoisseur of spirits this is place is a haven. Very knowledgeable and friendly staff will happily guide you toward that perfect bottle of single malt scotch or small barrel bourbon. Meet a friend or two for a tasting.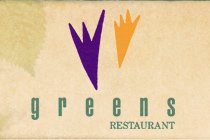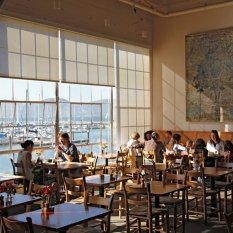 Greens Restaurant
A Fort Mason, 2 Marina Boulevard
Fort Mason
Vegetarian cuisine, for here or to go?? Stay and get a window table and observe the comings and goings of the Marina. Or take it to go and sit at a bench outside and watch the undulating waves crash against the pier. Either way you will be guaranteed to have one of the most innovative and creative vegetarian meals of your life. It makes for a great mid-day meeting place with some friends or colleagues.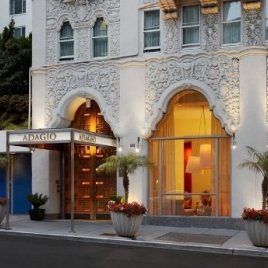 Hotel Adagio
550 Geary Street
Union Square
This building is gorgeous. And if you're into 1920's Spanish colonial architecture, you will most certainly agree. It's part of Marriott's Autograph Collection, which means that there is probably nothing like it in San Francisco, or even the World. Reserve one of the suites on Floor Sixteen as a great alternative meeting place for a more intimate, exclusive gathering. It's not super family-friendly, and was voted the best hotel in Union Square for the single folks.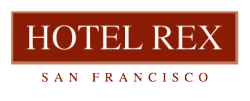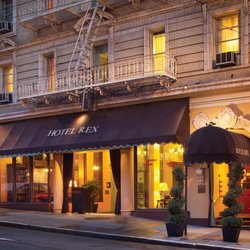 Hotel Rex
562 Sutter Street
Union Square
The location is among many attractive qualities of this charming hotel. The lobby bar (who doesn't love a great hotel lobby bar?!) is a popular night-time spot for guests and locals alike. Art shows, live music Fridays and cocktails with a literary theme make the Library Bar a great place to spark conversation with a fellow guest or meet some folks for an nice evening out.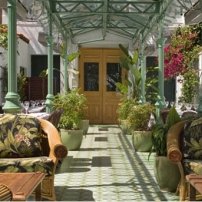 Le Colonial
20 Cosmo Place
Downtown
If you ever long for French colonial Vietnam, this is the place for you. Even if you don't, dinner at this Downton SF restaurant will have you yearning for it. Everything about this place is inviting. As you enter, you are greeted by a warm courtyard decorated in rattan seats. They offer only dinner service and often have live music. If you're not sure what to order, try one of the prix-fixe menus. Reservations are highly recommended. It's a great spot for a date or to meet colleagues.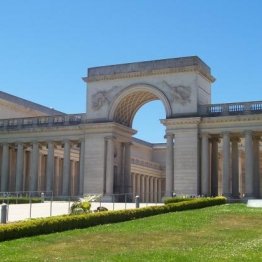 Legion of Honor
100 34th Avenue
The Presidio
Despite the location, The Legion of Honor is surprisingly easy to get to and offers free parking. Yes, free parking, which is just one of the many draws of this beautifully imagined museum. Before you even enter the grounds, walk over to the bench that overlooks the Pacific and is a grand view of the Golden Gate Bridge. Then sit at the edge of the impressive water feature. As you approach the entrance, you are met with Rodin's The Thinker. Peruse their permanent collection and definitely look into the special shows.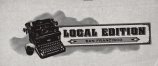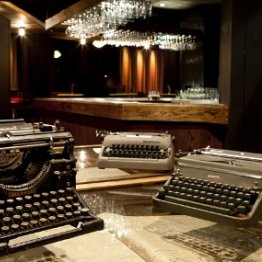 Local Edition
691 Market Street
Financial District
What can I say other than that I am a total sucker for vintage decor, especially when it is done tastefully, thus right. If its moniker doesn't clue you in, the typewriters display may give way to the newspaper motif. If you are planning an event of more than 15 people, you might want to look into booking space here. It also makes for a great place for conversations and you can make a reservation to ensure a place to sit or if you prefer to stand, there is plenty of room to do so.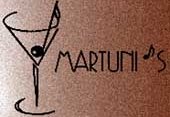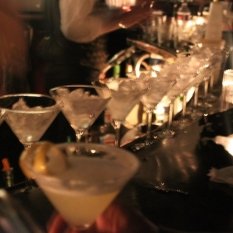 Martuni's
4 Valencia Street
SoMa
If martinis and live piano is what you're in the mood for, you need to go to Martuni's. It's a great place for igniting conversations with your friends/colleagues or with some new folks you met at the bar. It's a favorite among the SF musicians/performers and you can usually spot entire troupes after their performance. The Mango Melon Martini is an excellent choice or ask the bartender for special martini offerings. Listen for the piano and belting of show tunes from the back room. Join them, it's fine.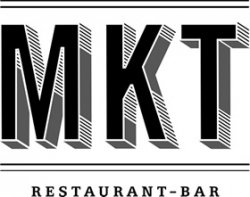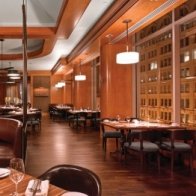 MKT at the Four Seasons
757 Market Street
Financial District
Business meetings are so much more interesting held outside of the conference room. Place your next meeting as a private dining experience and let the Four Seasons take care of everything you need. They can host semi-private parties of eight to exclusive parties of 40. With the splendid San Francisco city scape as your backdrop, especially from their Windows Private Dining Room, it's sure to ignite some interesting conversations.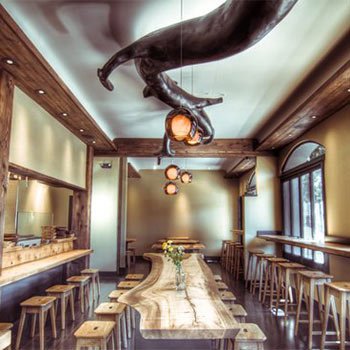 Namu Gaji
499 Dolores Street
Duboce Triangle
Namu Gaji is a new Korean American restaurant located right off of Dolores Park. The spot has a very hip vibe and is a great place to sit enjoy the comings and goings of the park. With the wide assortment of unique dishes, this is a great venue to order a wide variety of plates and share amongst a group. The long community seating arrangement make it a perfect spot for a team meeting or any other small group affair.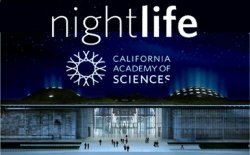 Nightlife at California Academy of Sciences
55 Music Concourse Drive
Golden Gate Park
Every Thursday night from 6 to 10pm I encourage you to check out Nightlife at California Academy of Sciences. It feels kind of like running around the museum after closing time, but with hundred of your friends and cool music. They do serve drinks, but I am usually wanting to be present with the surrounding aquarium and other parts you are allowed to access. This is a great alternative to a bar night, and so much around to spark lots of interesting conversations. Channel your inner science geek and meet a friend for a guaranteed fun evening!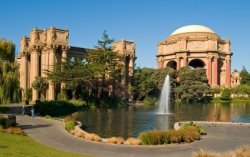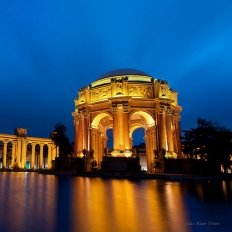 Palace of Fine Arts
3301 Lyon Street
Marina
There are few structures that have truly stood the test of time and this is definitely one of them. It was one of the ten palaces that were a part of the 1915 Panama-Pacific Exposition. During its lifetime it has been home to tennis courts, used as military storage and even a post-war telephone book distribution center. Today it is mostly a site where couples come to celebrate their union in the sight of their family and friends. It is also a great, unique place to meet some friends or colleagues for some conversation.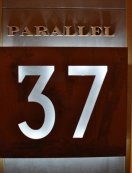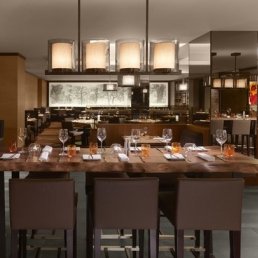 Parallel 37
600 Stockton Street
Union Square
At the edge of Union Square sits the Ritz Carlton, which is home to one of San Francisco's most popular culinary destinations. It's farm-to-table California fare at community tables. Even if you're not staying there, you might want to consider this spot for a breakfast meeting just so you can order the Dungeness Crab Eggs Benedict, which is their best dish.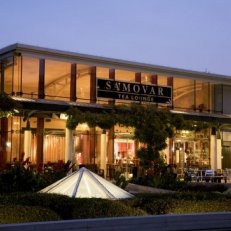 Samovar Tea Lounge - Yerba Buena
730 Howard Street
SOMA
In the land of coffee purveyors, this tea house chain does a mighty fine job standing on its own. Each branch holds a charm and uniqueness all its own and this one overlooking the Yerba Buena Gardens is no expectation. Come for tea and a light lunch and leave feeling lighter and brighter. Look down and enjoy the garden views or look up to appreciate the skyline. Located just south of Market Street, it's a very comfortable walk from Union Square.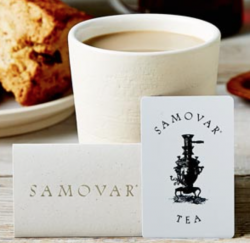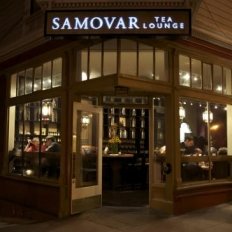 Samovar Tea Lounge The Castro
498 Sanchez Street
The Castro
I love black tea, a little bit of milk and a little honey and there it is. It does not matter where in the world one may be, the consistency of feeling in a perfect cup of black tea makes any place feel like (at least for me) home. Recently, on a rare warm San Francisco morning, I walked past this Tea Lounge and decided to sit outside at its cafe table. When ordering I was informed by my super nice server of the various black tea offerings as well as an all day Russian Tea service. I ordered one with Coconut (don't ask) and was promised, "You will love this tea." He was right on, without exaggeration, about the tea. For the love of Peet I can't remember the name of it but if you love tea, and especially if you love black tea I suggest you go to this Tea Lounge or any of their other locations for a solo excursion or to meet a friend. This is a completely San Francisco destination.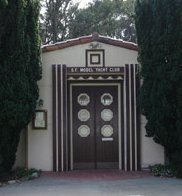 San Francisco Model Yacht Club - Golden Gate Park
Golden Gate Park - Sprekels Lake
Golden Gate Park
On most weekends, you can find tiny versions of grand yachts racing on Spreckels Lake in Golden Gate Park. The lake was designed with model yachting in mind and is also home to the San Francisco Model Yacht Club which was built in 1937 as part of a WPA project. Whether you are into free sail racing or power models or just want to say you have seen a mini-yacht race, the weekend regattas are quite a sight and one of its kind in the nation. Don't forget to check out the bison sanctuary on the way out of the park.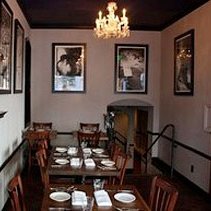 Sons & Daughters
708 Bush Street
Union Square
As the farm-to-table movement continues to shape the way we think about food, this restaurant will play a major role at least here in San Francisco. They bring to your table dishes made from ingredients found on THEIR farm. To this city dweller, that sounds phenomenal. The dining space fits just under 30 patrons and is designed to deliver a superb experience. If you're into the wine pairing thing, you will definitely be pleasantly surprised. Consider buying it out to be the location of your next private event.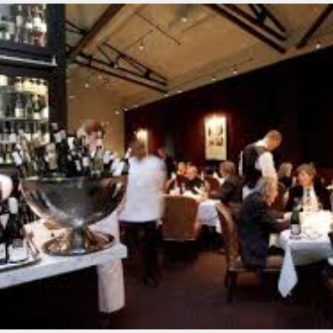 Spruce
3640 Sacramento Street
Presidio Heights
Spruce. Seriously, seriously one of the best dining experiences you will have in San Francisco. Period. But, I will tell more... perfect room, perfect service, perfect food, perfect drinks. This is a neighborhood gem where you will feel like you are actually in San Francisco with locals are folks who know this is an amazing place to have a serious dinner with clients, friends, romantic/sexy whatever... sit in the bar side and have a brilliant cocktail. Don't worry you will never find parking in this neighborhood as the valet is waiting for you instantly as you walk into an evening experience you will not soon forget. The private room on the right side of the restaurant is perfect for a formal client occasion or family event. But if you were to ask me what one of the most important reasons to go to Spruce you will discover (if you trust me me on this) order from the bar menu the Hot Pastrami Sandwich with the fries. If you are on the more formal side of the restaurant your server will know you are "in the know." When my wife says to me, "Let's go to a place that will make you very happy tonight." we hop on my Vespa, drive through the fog up and down the San Francisco hills and cruz up to Spruce. For some odd reason this place reminds me of the Eagles song Hotel California, minus the debauchery. Possilby.