Our San Francisco
Our favorite city destinations
Coffee & Tea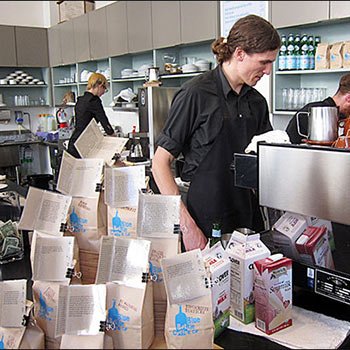 Blue Bottle (Mint Plaza)
66 Mint Plaza
Mid-Market
Why go here? The line is silly long and you will regularly see SF cops waiting 20 minutes for a coffee. (funny) The staff never acknowledge you and don't care how long you waited. If you are with someone don't expect your order to come up at the same time. The room is crowded and somewhat loud any time of the day. Why go here? It's a perfect cup of coffee and the staff is expected to maintain that standard for every cup made, a high bar seldom practiced in most anything these days. Also, the Acme bread & butter and soft boiled egg in the morning is extremely addictive. They have made coffee a science and a craft. Forgive them. Enjoy.

Blue Bottle Coffee/ Heath Ceramics
2900 18th Street
The Mission
Blue Bottle is a San Francisco favorite, but this location's coffee kiosk is inside Heath Ceramics Factory. This legendary pottery studio was founded in the 1950's in Sausalito, CA. You can get a drip coffee or a mocha made with Tcho chocolate while browsing the pottery collections in the showroom. The gift shop features finely crafted furniture, home accessories, and other designerly gifts that are locally sourced and packaged.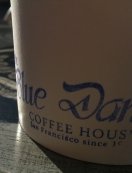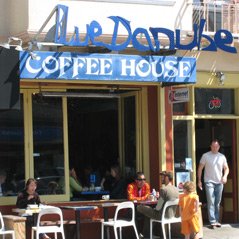 Blue Danube Coffee House
306 4th Avenue
Inner Richmond
This is a part of San Francisco where you can find a sunny morning, even when the rest of the city is still covered in fog. Many locals stop for their morning cup, so you get a real neighborhood joint vibe going on. In the evening it's a great spot to plop down with a book int he corner somewhere or meet someone for some good coffee and conversation. They're open till 10. Enjoy!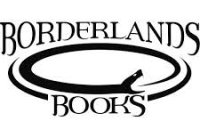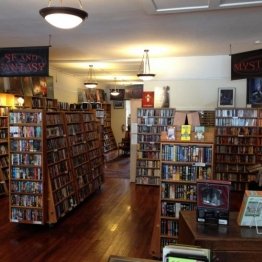 Borderlands Books
866 Valencia Street
Mission District
This place is definitely a rare find. It is where the paths of nerdom meet and intersect. Rugged paperbacks and rare first editions of fantasy, sci-fi and horror line the shelves of this San Francisco original. Find a good read (there are so many!), find a table at the adjacent Borderlands Cafe and get lost for a bit.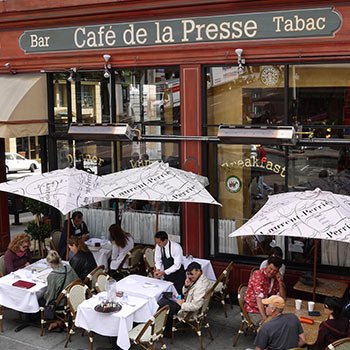 Café de la Presse
352 Grant Avenue
Financial District
The 'other' best French Onion Soup in SF. This place has been around for some time and the owner is super cool and treats this place as if it were in Paris. The perfect place to meet someone in the front cafe for coffee and the back is a little more formal, filled with San Francisco's financial folks at lunch.
Cafe St. Jorge
3438 Mission Street
Mission/Bernal Heights
I LOVE this place. There is no other cafe like it in San Francisco, and nothing comes close to it in the neighborhood. It's about 15-20 minutes by car from Union Square or a straight shot down Mission Street on the 14 bus line. Andrea, the owner can be found regularly taking orders and serving coffee. It's Portuguese influence can be found all over the place, from the intimate family photos on the wall to the anchovies from Porto they sell. There are two things you must have: the Avocado toast and whatever special toast they've got going on. Order a bottomless mug of coffee, hot or iced, to go with that toast. It's a great place to meet someone and is very child-friendly.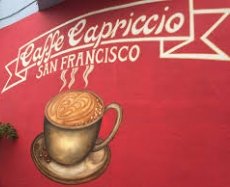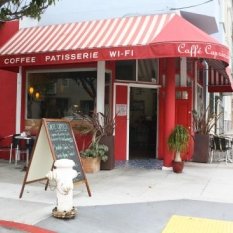 Caffe Capriccio
2200 Mason Street
North Beach
This North Beach caffe is home of the best macchiato in town, like the real kind, not the one that comes in a 12-ounce cup. The staff is super friendly, even at opening hour and are totally cool with you camping out for a morning email check on the laptop or an afternoon novel-reading break. Try the Caprese salad for lunch. But you must meet your macchiato craving by 3pm as that is when they close for the day.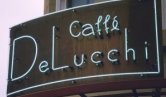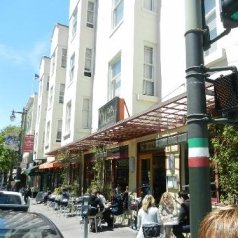 Caffe DeLucchi
500 Columbus Avenue
North Beach
Breakfast, lunch and dinner menus are all full of modern versions of classic Italian caffe offerings. The polenta with pulled pork and poached eggs are my breakfast go-to, the pulled pork practically melts in your mouth. Lunch is normally a reasonable wait, but you'll probably need to make dinner reservations especially if it's one of those rare and amazing warm summer nights in San Francisco.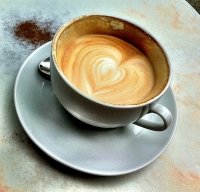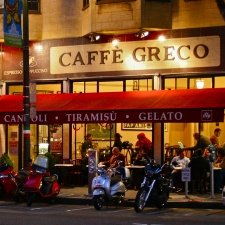 Caffe Greco
423 Columbus Avenue
North Beach
The next time you crave a cappuccino and cannoli at 10 in the evening, you're going to be so happy that you know about this place. It is as close to an Italian caffe as you're going to get complete with sidewalk seating for people watching. No hurrying in and out of this place. The pace is slow and perfect. They're open till 11pm on most nights, even midnight on the weekends. Buono sera!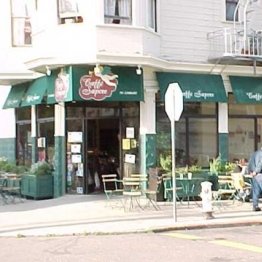 Caffe Sapore
790 Lombard Street
North Beach
Located at the intersection of Lombard and Taylor in the heart of North Beach, Caffe Sapore is a great place for your morning coffee or for a less formal meeting. The walls are covered with works from local artists and are usually available for purchase. The coffee is decent, but I make the trip for lunch: the Fred salad, substitute chicken with smoked salmon, you won't regret it.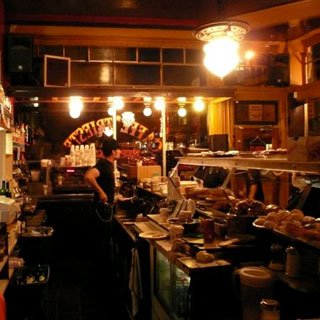 Caffe Trieste
601 Vallejo Street
North Beach/ Little Italy
Caffe Trieste in North Beach has been serving espresso and Italian style coffee for over 50 years. The raison d'etre of this family owned business is to immerse fellow consumers of caffeine with Italian culture. Cafe Trieste is known for their live music. Acts typically perform traditional and old world Italian folk music- the most enjoyable way to enjoy a Sunday capuccino. It is here that Francis Ford Coppola wrote most of The Godfather.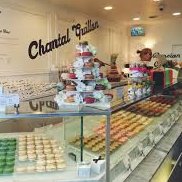 Chantal Guillon Macarons & Teas
437 A Hayes Street
Hayes Valley
They specialize in French macarons and they do them very, very well. Depending on the time of year, you can get your hands on flavors like Blood Orange and Blueberry Creme Fraiche, but it's their standards like Sea Salt Caramel and Red Velvet that keep me going back. Stop by and grab a dozen (or two) to take with you or meet a friend and share a pot of tea and macarons.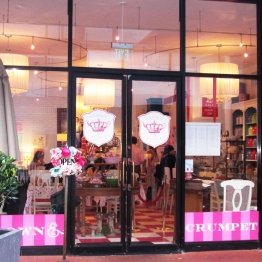 Crown & Crumpet Tea Stop and Cafe
1746 Post Street
Japan Town
This place will force you to slow down and smell the crumpets! Afternoon tea at this little Japan Town treasure is sure to spark some interesting conversations. As you and your guests spread clotted cream on scones, you will forget that you're in a city and feel like you're in that secret garden we all read about as children. Enjoy!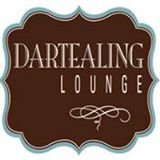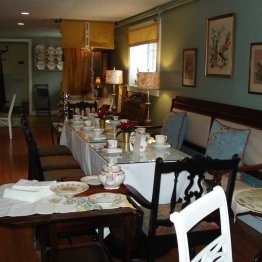 DarTEAling Lounge
470 Third Street
SOMA
There is something very bonding about sharing a pot of tea, and the location in which you do so can have a lot to do with it. This place definitely lends itself to a wonderful tea experience. Make a reservation for an afternoon tea service and catch up with some good friends or invite colleagues for a unique meeting location.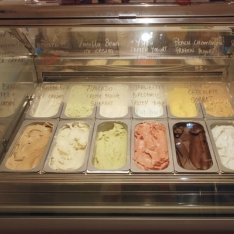 DeLise Cafe
327 Bay Street
North Beach
The only sandwich you'll find here is one made of artisanal ice cream. It is a straight up dessert cafe and nothing else. In this part of North Beach, there is no place like this. Stop in for a coffee and a freshly baked bar or cookie. Or pick some up for a meeting by calling ahead.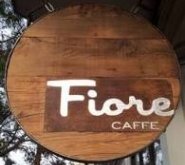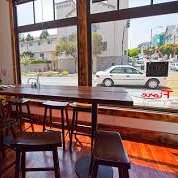 Fiore Caffe
3599 24th Street
Mission
You can find excellent Italian caffes outside of North Beach as evidenced by Fiore in the Mission. The corner of 24th Street and Guerrero is the location of this modern take on the classic. The front of the restaurant houses an espresso bar with communal table, then there is a seamless transition into a space for fine dining. Their Americano is a great alternative to drip coffee. You'll have to come back for dinner for the Linguini Allo Scolglio followed by the Salmone Al Limone.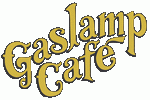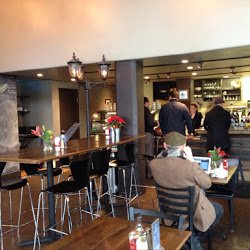 Gaslamp Cafe
1599 Howard Street
SOMA
Most of the SOMA eats are pretty casual and carry the neighborhood, local vibe. This place definitely embodies the warm, welcoming feel of familiarity. The proudly serve Blue Bottle and carry some of the best pastries this side of Market. It's a great location for a breakfast meeting or a morning coffee talk.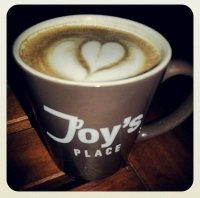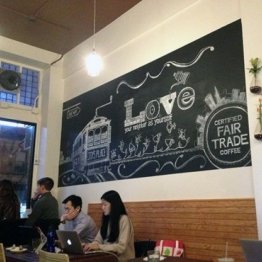 Joy's Place
611 Post Street
Lower Nob Hill
You won't have to worry about your conversation partner being able to hear you over the loud music and antics of most other late night spots here. Joy's is a sweet little cafe serving up espresso drinks and Asian-style desserts to your heart's content. They carry sweets from other parts of the world, too. Your first time? Try some shaved ice with red beans or the honey bread. Oh, they keep their doors open till midnight, seven days a week.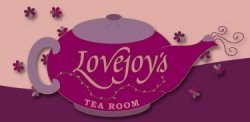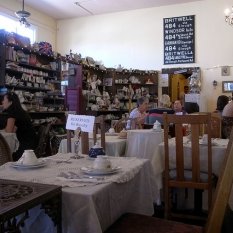 Lovejoy's Tea Room
1351 Church Street
Noe Valley
This Noe Valley treasure is one of the most family-friendly tea spots is town. Complete with an "Alice in Wonderland" tea party garb of mis-matched tea cups and blossoms galore, it's the perfect place to host a tea or to have your afternoon tea.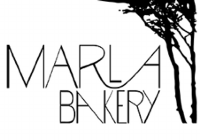 Marla Bakery
3619 Balboa Street
Richmond
This place is everything a cafe should be: warm, inviting and lots of good food! Situated outside the hustle and bustle of city life in the Outer Richmond neighborhood, this cafe is perfect for a Sunday brunch or, if you're lucky enough to be in town, for their monthly Sunday Supper. Call for reservations to either and you will not be disappointed.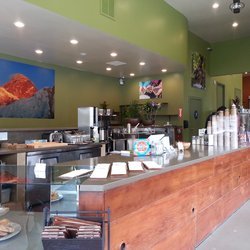 Mission Edge Cafe
5999 Mission Street
Daly City
Just on the other side of the city border in Daly City is home to this perfect little cafe. The coffee is rich and the service is superb. They don't mind if you park yourself and your laptop for a few hours (and will keep the coffee pouring!). If you find yourself needing a little something either to or from SFO, stop in and try the rotisserie chicken (their pride and joy) and the quinoa salad. It's all fresh, fresh, FRESH!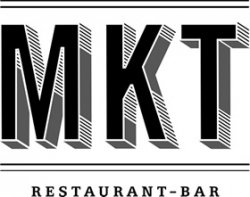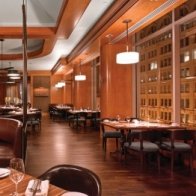 MKT at the Four Seasons
757 Market Street
Financial District
Business meetings are so much more interesting held outside of the conference room. Place your next meeting as a private dining experience and let the Four Seasons take care of everything you need. They can host semi-private parties of eight to exclusive parties of 40. With the splendid San Francisco city scape as your backdrop, especially from their Windows Private Dining Room, it's sure to ignite some interesting conversations.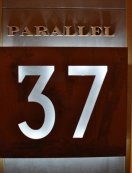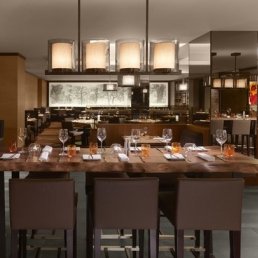 Parallel 37
600 Stockton Street
Union Square
At the edge of Union Square sits the Ritz Carlton, which is home to one of San Francisco's most popular culinary destinations. It's farm-to-table California fare at community tables. Even if you're not staying there, you might want to consider this spot for a breakfast meeting just so you can order the Dungeness Crab Eggs Benedict, which is their best dish.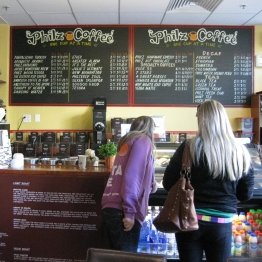 Philz Coffee
3101 24th Street
The Mission District
There are at least 7 locations I know of throughout the city and this one is the original. You're not going to find live music and poetry slams in this coffee shop. But for those mornings you just want a cup of coffee, no add shot, no steamed milk, just java, this is where you go. Even at 630 in the morning, you will be warmly greeted with a smile.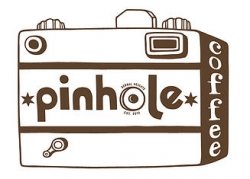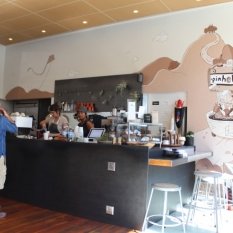 Pinhole Coffee
231 Cortland Avenue
Bernal Heights
The building that houses Bernal Heights' most recent coffee dispensary used to be a butcher shop. Whether you are into a pour over or a shot of espresso, Pinhole will serve up your cup with a smile. Try a homemade fruit popover to complement your daily drip.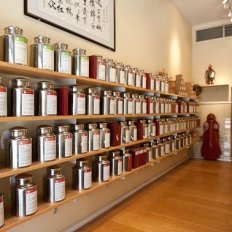 Red Blossom Tea Company
831 Grant Avenue
Financial District
They are second generation tea artisans and they know what they're doing. Only recently has their menu been translated into English though their tea knowledge spans over many years. Try their herbal Elderflower tea or the rare orchid tea and you'll never look for another place to get your tea. Take some home with you, you won't be sorry.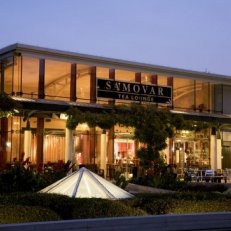 Samovar Tea Lounge - Yerba Buena
730 Howard Street
SOMA
In the land of coffee purveyors, this tea house chain does a mighty fine job standing on its own. Each branch holds a charm and uniqueness all its own and this one overlooking the Yerba Buena Gardens is no expectation. Come for tea and a light lunch and leave feeling lighter and brighter. Look down and enjoy the garden views or look up to appreciate the skyline. Located just south of Market Street, it's a very comfortable walk from Union Square.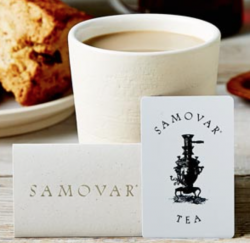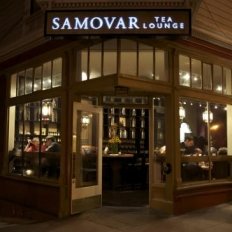 Samovar Tea Lounge The Castro
498 Sanchez Street
The Castro
I love black tea, a little bit of milk and a little honey and there it is. It does not matter where in the world one may be, the consistency of feeling in a perfect cup of black tea makes any place feel like (at least for me) home. Recently, on a rare warm San Francisco morning, I walked past this Tea Lounge and decided to sit outside at its cafe table. When ordering I was informed by my super nice server of the various black tea offerings as well as an all day Russian Tea service. I ordered one with Coconut (don't ask) and was promised, "You will love this tea." He was right on, without exaggeration, about the tea. For the love of Peet I can't remember the name of it but if you love tea, and especially if you love black tea I suggest you go to this Tea Lounge or any of their other locations for a solo excursion or to meet a friend. This is a completely San Francisco destination.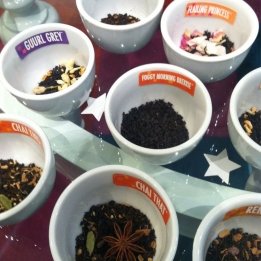 T-WE Tea
50 Post Streeet
Financial District
At first glance you might think this place is a bit hipster-ish and what would they know about tea? Well, it is very hipstery, so what? And, they do know so much about tea, perhaps more than other purveyors in the area. They have fully embodied the art and craft that goes into creating the perfect tea leaf. The names of the teas are so clever and fun. You may not be able to sit and enjoy it here, but you'll find something to take with you. Makes great gifts for the tea lover(s) in your life!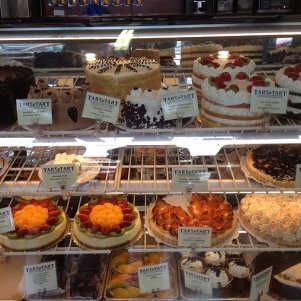 Tart To Tart
641 Irving Street
Richmond
There are three locations scattered throughout San Francisco and, though, I have been to all three, the one in the Richmond, the one that is open until midnight just about seven days a week, this is the one I frequent. I mean what can you say about a slice of tiramisu and a shot of espresso at 1130 in the evening? When you need to quench that sweet tooth or need an alternative place to meet someone other than a bar, I think you'll find Tart to Tart suitable. Make sure to go to the one in the Richmond, the other two locations don't stay open as late.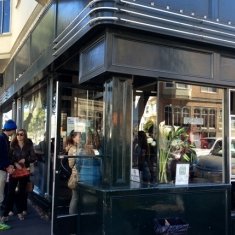 Tartine Bakery and Cafe
600 Guerrero Street
Mission District
I don't think there is such a thing as down time for this place. Perhaps only when it is closed. Every moment it is open you will find a line at least 15 people deep, which is considered a short wait. Is it worth it?! Of course, it is. You can bet if there is a line outside a San Francisco establishment that it is worth every minute. The Jambon Royale & Greyere or Fromage Blanc & Banana Hot Pressed Sandwiches are perfect for lunch!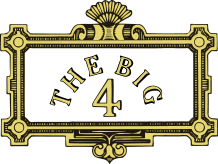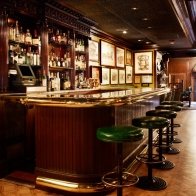 The Big 4
1075 California Street (inside The Scarlet Huntington)
Nob Hill
So much of the history of San Francisco is steeped in the railroad industry. The Big 4 was named for four of the industry's biggest players. Despite its recent renovations, the green leather club chairs, tuxedoed piano player and railroad themed cocktail menu will take you back to a time when opulence and elegance were defined by the actions of these Big Four Players, at least in San Francisco.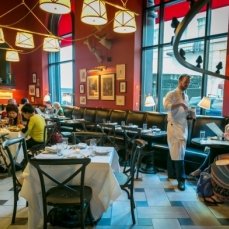 The Cavalier
360 Jessie Street
SOMA
If you're looking for a weekday lunch place that's just on the other side of special, this is it. This British-inspired gastro pub is located just south of Market Street and serves up quite the hearty lunch fare. If you're planning a lunch meeting or otherwise corporate event, call them. Ask for the room that has the speakeasy feel, your guests will be intrigued and inspired.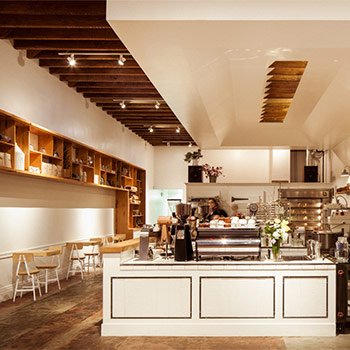 The Mill
736 Divisadero Street
Western Addition
A wonderful little coffee shop on the main drag of Divisadero Street, The Mill is most famous for the toast it serves. The bread they use is to die for, and is served with a variety of types of spreads that are equally delectable. Of course no cafe is complete without coffee and The Mill features a diverse assortment of Four Barrel Coffees. This is also great spot to do some work with a a beautiful open interior and additional outdoor seating.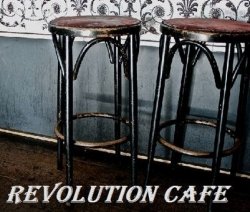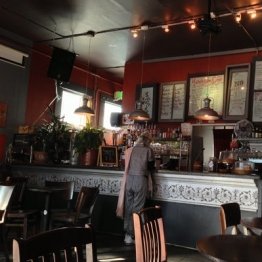 The Revolution Cafe
3248 22nd Street
Mission District
The nightlife in San Francisco is one of the most vibrant and multidimensional. So it's not surprising that the city offers late night coffee and tea spots which are ideal when you want to enjoy a low-key evening with a friend or colleague. Though Revolution does offer a modest wine and beer menu, the crowd is super mellow and it makes for a great spot for an after sundown meeting. It's located in a very colorful part of the Mission District.