Our San Francisco
Our favorite city destinations
Restaurants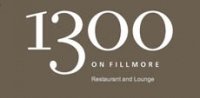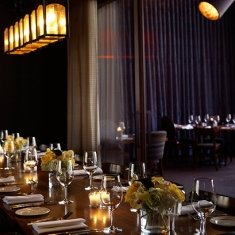 1300 On Fillmore
1300 Fillmore Street
Western Addition
One bite of their innovative take on Southern brunch staples such as grits and/or biscuits & gravy and you definitely know that you're in for a real treat. Whether you meet some friends for an after work bite or are lucky enough to get a table for gospel brunch, it's a great place for conversations. They also have a 22 person private dining room that is perfect for a meeting or intimate gathering.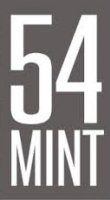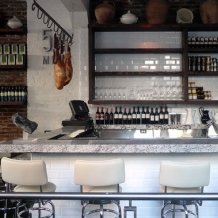 54 Mint
16 Mint Plaza
SOMA
Rustic Italian food and an inviting counter makes this a fabulous lunch spot in a very vibrant part of town. It's just a couple of blocks from Union Square, situated behind the Old Mint Building. They offer a prixe fix lunch menu (check their site for daily offerings) including fresh pasta. There is nothing like fresh pasta for lunch. Bravo!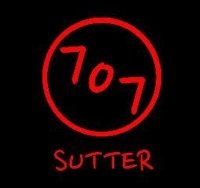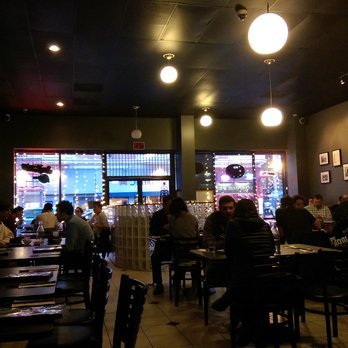 707 Sutter
707 Sutter Street
Lower Nob Hill
Nothing too frilly about this place. Grey walls will sometimes have projections of Korean dramas, which makes the place feel really young and trendy. That's not why I go there. The food reminds me of late-night street vendors in Seoul, especially when I order the Tteok-Bok-Ki (spicy rice cakes), Soon Dae Bok Um (blood sausage) and Soon Doo Bu (tofu soup).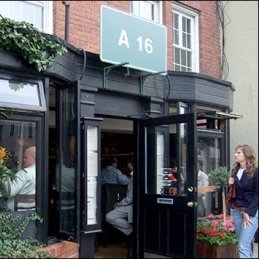 A16
2355 Chestnut Street
Marina
Rustic Italian is what you'll find here. The salads are hearty and even the purist will agree that this is one of the best places for pizza this side of the boot. It's a great place to unwind and after going down the crooked street of Lombard. Take a car from Union Square and get your pizza fix done right!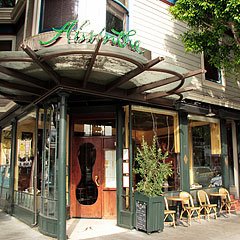 Absinthe Brasserie & Bar
398 Hayes Street
Hayes Valley
Absinthe is within blocks of the Performing Arts Center and great place to grab a meal before a concert or show. During opera season, they offer a prix fixe menu complete with a dessert to go (usually macarons!). The menu does change with the seasons, so their delicious Spanish Octopus salad may not be there forever.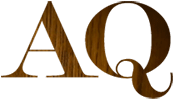 AQ
1085 Mission Street
SOMA
Located in San Francisco's Soma neighborhood, AQ does not hold back when it comes to offering its patrons a phenomenal dining experience. Everything from the food, beverages, decor right down to the tabletops and staff uniforms is all perfectly curated to seamlessly flow from season to season.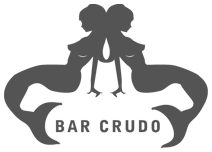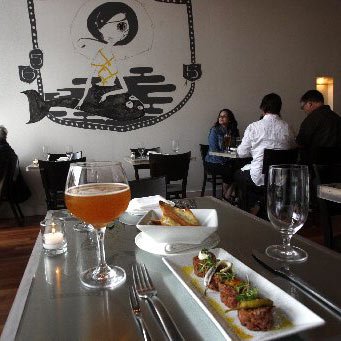 Bar Crudo
655 Divisadero Street
Alamo Square/ Western Addition
The Scene: laid-back & unpretentious. The food: Seafood with a bit of a Japanese influence. The wine: Awesome selection and the waiters offer up a generous pour. The picks: Go for the seafood chowder and the lobster beet salad. You can thank me tomorrow.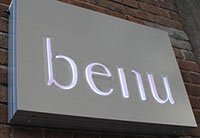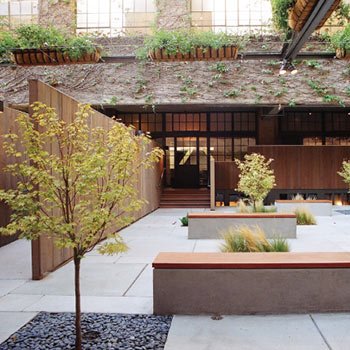 Benu
22 Hawthorne Street
SOMA
If you have 3 or more generous hours to kill, you will find no better way to spend them than the 18 course tastings and pairings menu at Benu, an exquisite dining juxtaposition of East meets West. Benu earned its well-deserved 3rd Michelin Star this year. The atmosphere is minimalist chic with an air of James Bond cool, and the restaurant is tucked away in a SOMA corner that makes you feel as if you've travelled to another land.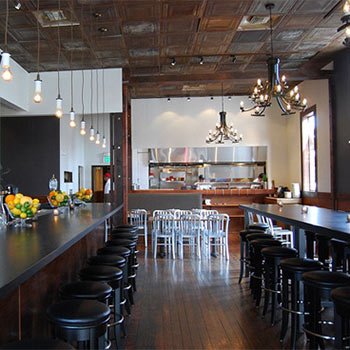 Beretta
1199 Valencia Street
The Mission
There is something to be said about consistency and Beretta has this down to a science. Located in the Mission District, Beretta is a hip restaurant that offers up well crafted cocktails and simple italian fare that will not disappoint. Just make sure to save room for the Panna Gelato with extra virgin olive oil and sea salt.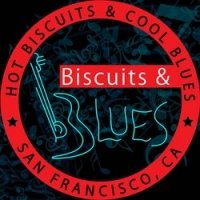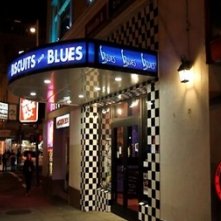 Biscuits and Blues
401 Mason Street
Union Square
Hot biscuits and cool blues the sign says and that is exactly what you will find here. They're closed on Mondays, but pretty much every other night you can find amazing locally and nationally known blues artists. Start your meal off with some Corn and Shrimp Fritters, move onto the Crawfish Étouffée and do not forget to order a Basket of Biscuits. Perhaps not the best dinner for the carb-conscious.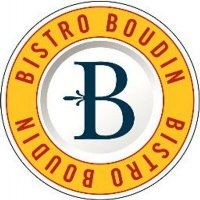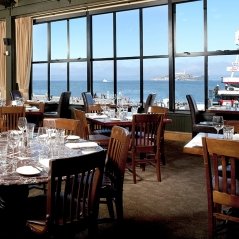 Bistro Boudin
160 Jefferson Street
The Wharf
Sourdough bread and bay views are two very distinctly San Francisco elements. A visit to this beautiful city would not be complete without a clam chowder bread bowl and you really should have one by the water. Plan your next event in their private dining room on the waterfront , which can hold up to 30 guests and you can even include a trip to the adjacent museum. People will be talking about your event for weeks!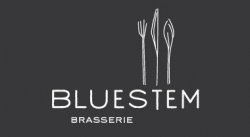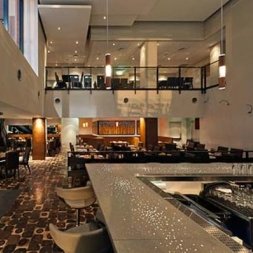 Bluestem Brasserie
One Yerba Buena
SOMA
Lunch or dinner, you will not be disappointed. But this is a great semi-fancy lunch place when you need a break from the typical salad and sandwich combo. I mean, they do have those there. It's just that they come with Hand Pulled Duck Confit (salad) and Lamb Meatballs. Can't really get those at your sandwich stand. Again, you will want to make a reservation as the seats in this sizable place fill up pretty fast.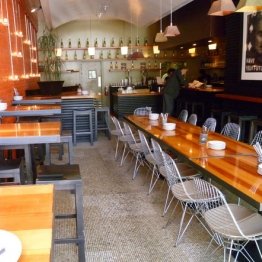 Bocadillos
710 Montgomery Street
Financial District
Tapas on communal tables at Bocadillos in the Financial District make for great conversations and, even, causal meetings. Try a bocadillo for lunch (you get to choose two options) and go back for tapas at dinner. Beef Tartare and Charred Sweet Corn make a great pairing, don't forget to add a nice Spanish wine.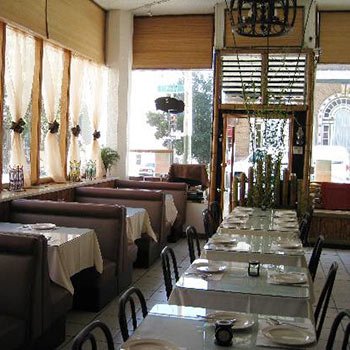 Borobudur Restaurant
700 Post Street
Nob Hill
If you are downtown and in the mood for something more appealing than the hundreds of Thai restaurants head to Borobudur. A favorite among locals, Borbordur offers up tasty Indonesian cuisine that is rich in exotic flavors that are sure to excite your palate. If you aren't sure what to order, go for the Rijsttafel which is an excellent selection of their best dishes.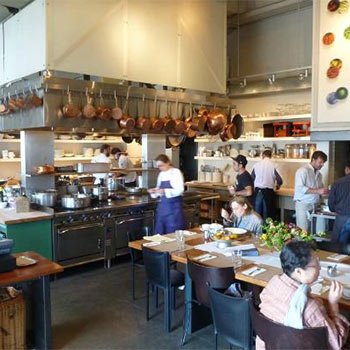 Boulette's Larder
1 Ferry Building
The Embarcadero
A must for the true foodie elite, Boulette's is an exemplary experience of the farm-to-table movement. The menu is thoughtful and creative, and ingredients are sourced from artisanal providers both local and far-reaching. Located in the historic Ferry Building, meals are served in an open kitchen room, adjacent to the hearth and the Cezanne-esque still lifes of displays in the adjoining larder, where you can source one-of-kind ingredients to enhance your home meals and wow your guests.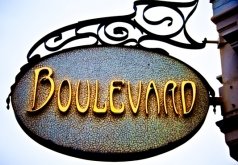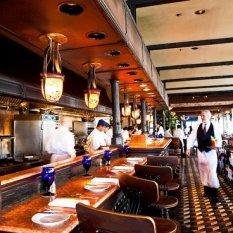 Boulevard
1 Mission Street
The Embarcadero
Where Mission Street starts sits this French-influenced American cuisine dining experience. I say experience because as you walk in you can feel the history of the building that was saved from fire in the earthquake laced with what feels like a scene out of Moulin Rouge. Just minutes from the Financial District and downtown, it's a lively spot for a lunch meeting.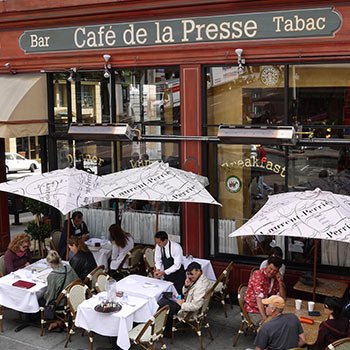 Café de la Presse
352 Grant Avenue
Financial District
The 'other' best French Onion Soup in SF. This place has been around for some time and the owner is super cool and treats this place as if it were in Paris. The perfect place to meet someone in the front cafe for coffee and the back is a little more formal, filled with San Francisco's financial folks at lunch.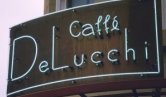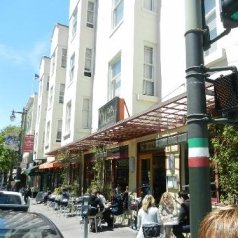 Caffe DeLucchi
500 Columbus Avenue
North Beach
Breakfast, lunch and dinner menus are all full of modern versions of classic Italian caffe offerings. The polenta with pulled pork and poached eggs are my breakfast go-to, the pulled pork practically melts in your mouth. Lunch is normally a reasonable wait, but you'll probably need to make dinner reservations especially if it's one of those rare and amazing warm summer nights in San Francisco.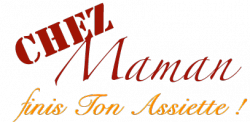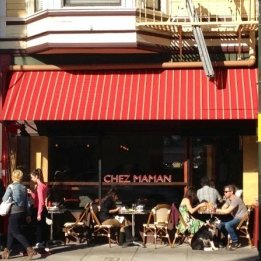 Chez Maman Potrero
1453 18th Street
Potrero Hill
This place feels like it was cut out of a Paris bistro and pasted into a San Francisco neighborhood. The one in Potrero Hill is on 18th Street, just about three miles from Union Square. The Croque Madame is a great breakfast choice, as is the Nicosia Salad is for lunch. A great alternative when you'd rather brunch than stand in line.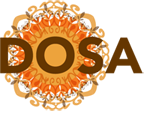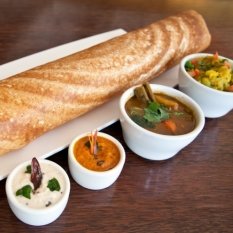 DOSA
995 Valencia Street
Mission
This award-winning South Indian restaurant has two locations: The Fillmore and The Mission. It really does not matter which you go to, just make sure you make a reservation. Even if you have to wait, it is worth every second. Order the Dosa on your first visit. The Paneer & Peas or Masala are great options. Each dish is served with a variety of chutneys and a lentil dipping soup so that you can enjoy every morsel of that flat Indian bread!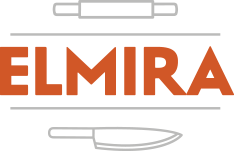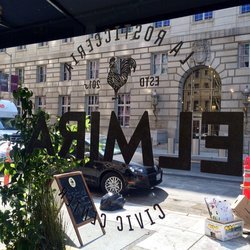 Elmira Rosticerria
154 McAllister Street
Civic Center
It takes about 10 minutes by foot from Union Square, right next to the UN Center in Civic Center. For a rosticceria, they sure have a few great veggie only options including a Roasted Eggplant sandwich that is served on soft ciabatta bread and small side salad. For your omnivores, the Crispy Pork Salad is a perfect balance of meat, greens and apple. The chicken is pretty amazing, too. It's super low key with plenty of places to sit.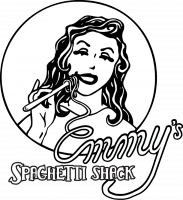 Emmy's Spaghetti Shack
3230 Mission Street
The Mission District
You'll need to leave your low-carb diet at the door if you want to enjoy yourself here. Emmy serves up THE best plate of spaghetti with meatballs the size of my fists (I have large hands). It is very family friendly (then again what place with spaghetti in it's name isn't?!) so bring the little ones!!! There is always a good vibe here, good music and awesome food! Take a trip down to the Mission and get some spaghetti in your belly!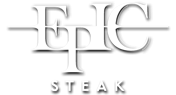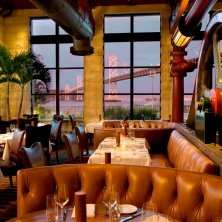 EPIC Roasthouse
369 The Embarcadero
Embarcadero
What a coveted location this place occupies, right on the water offering every table in the house spectacular views of the Bay Bridge. If you're lucky enough to get a sunset dinner reservation, you will have trouble taking your eyes off of it. Restauranteur Pat Kuleto's vision of creating a wood-burning grill and oven were realized and perfectly executed. What a spectacular place to schedule your next business meeting or celebration.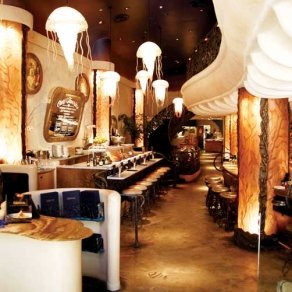 Farallon
450 Post Street
Union Square
The underwater theme lines the entire restaurant and is done in such a classy way. Jellyfish chandeliers and octopus stools add not-so-sublte touches that really make the space pop. The menu is mostly seafood (surprise). The developers, recognizing the city's needs for private dining venues, added three rooms devoted solely to private parties and events. Whichever room you choose, you will have a kitchen dedicated to servicing your event.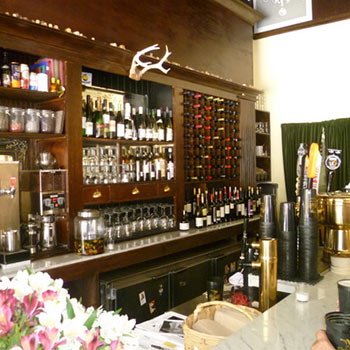 Fat Angel
1740 O'Farrell Street
The Fillmore
The Fat Angel is a warm and spirited wine bar that boasts one of the city's best wine lists. They also offer a cellar full of local and rare beers and wines. Other drink options include housemade Pimm's, champaign cocktails, and draught beers. The crowd is local and business casual.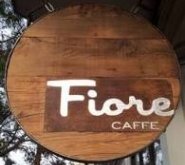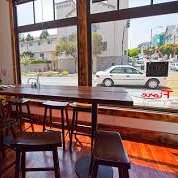 Fiore Caffe
3599 24th Street
Mission
You can find excellent Italian caffes outside of North Beach as evidenced by Fiore in the Mission. The corner of 24th Street and Guerrero is the location of this modern take on the classic. The front of the restaurant houses an espresso bar with communal table, then there is a seamless transition into a space for fine dining. Their Americano is a great alternative to drip coffee. You'll have to come back for dinner for the Linguini Allo Scolglio followed by the Salmone Al Limone.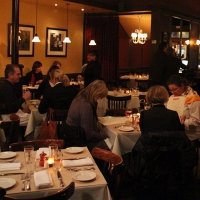 Florio Bar & Cafe
1915 Fillmore Street
The Fillmore District
This is charming Italian-French restaurant situated in the Fillmore District feels like the quintessential neighborhood restaurant, so warm and inviting, that you wouldn't necessarily think of it as a venue for your next meeting or event. The entire place is available on most evenings, or you can dine semi-privately and still feel the vibe of the place. Keep it in mind if you need a last-minute event spot.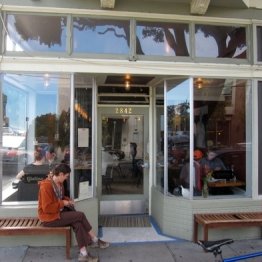 Gialina
2842 Diamond Street
Glen Park
This is a for real neighborhood pizzeria in Glen Park, which is one of the most cozy neighborhoods of San Francisco. If you take Bart to Glen Park, this place is right on the corner as you emerge from the station. They don't take reservations and have a minimum order for take-out, but it's all worth it! When I cannot make it to North Beach, this is where I go. Start with the Wild Arugula salad and try the pie with potatoes and bacon.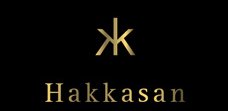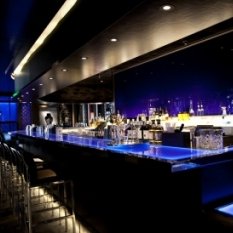 Hakkasan San Francisco
One Kearny Street
Financial District
This is one of the installments of the greater Hakkasan Group that started as a concept restaurant in London. Don't have the time to go to London?! Well, this one will have to do. It's elevated on the second floor and overlooks the Financial District, with views that are truly unsurpassed. Of course, the food is amazing. Their contemporary version of dim sum and other Chinese favorites knocks it outta the park. The space is large, but still very intimate. They also offer private dining options, sure to inspire!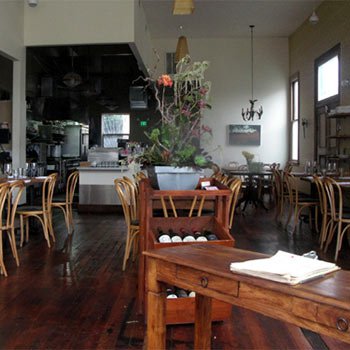 Heirloom Café
2500 Folsom Street
The Mission
A hidden gem down on Folsom Street, Hierloom Café combines a casual intimate dinner experience with a family kitchen feel. The restaurant features an open kitchen and has a communal table in addition to individual seating. The restaurant prides itself on using the freshest of ingredients and consequently menu is very much dependent on what is in season. The menu is simple but with a wide variety of options.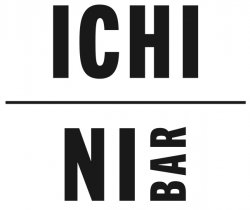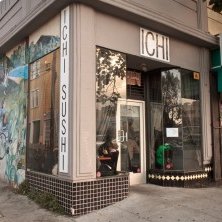 ICHI Sushi + NI Bar
3282 Mission Street
Bernal Heights
I know folks who make a special trip out to Bernal Heights just to have dinner here. It's a teeny, tiny space with a gigantic personality. The owners have done an amazing job and you can tell they approach their work with respect and care. I cannot recommend one thing, because it's all good! I would suggest omakase, the chef will not disappoint! If you have to wait to be seated, hang out at the bar. 1! 2!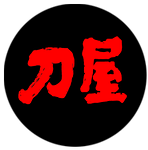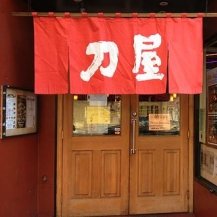 Katana-Ya
430 Geary Street
Union Square
They don't fuss with reservations here. They do focus on great ramen and sushi, though. It's the ramen that fills the line, and the sushi that will pleasantly surprise you. If you're new to ramen you don't have to eat out of a styrofoam cup, try the BBQ Pork Ramen, add Egg and Kimchi. Don't expect great service here, and know what you want, patience is not a virtue of theirs and it is totally okay.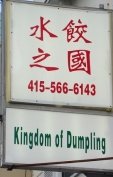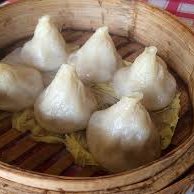 Kingdom of Dumpling
1713 Taraval Street
Richmond
This place is so aptly named. I mean, they do serve up other Chinese dishes, but that's not why you wait in line for 30 minutes on a Saturday. The homemade Pork & Shrimp Dumpling with Green Chives is why. They have vegetarian options, too. Whatever you choose, you may want to call ahead to this tiny Richmond shop as the line can wind around the block. It's hard to explain what it feels like to bite into one of these steamed delights, so do yourself a favor and got grab a dozen.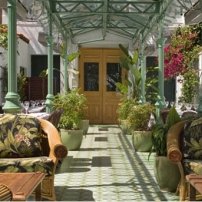 Le Colonial
20 Cosmo Place
Downtown
If you ever long for French colonial Vietnam, this is the place for you. Even if you don't, dinner at this Downton SF restaurant will have you yearning for it. Everything about this place is inviting. As you enter, you are greeted by a warm courtyard decorated in rattan seats. They offer only dinner service and often have live music. If you're not sure what to order, try one of the prix-fixe menus. Reservations are highly recommended. It's a great spot for a date or to meet colleagues.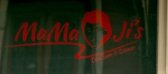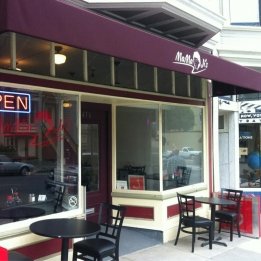 Mama Ji's
4416 18th Street
The Castro
Dim Sum is no longer just for weekends and Mama Ji's is the place if you want/need dim sum on a Wednesday afternoon. They don't just do dim sum here, they also do an amazing version of Sichuan fare. The owner, Mama Ji, hails from China and has made her home here, lucky for us, in San Francisco for good! Take the F-Car from Union Square and you'll be there in like 10 minutes!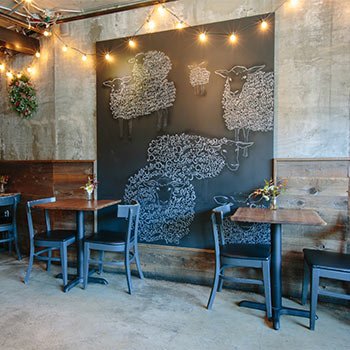 Mission Cheese
736 Valencia Street
The Mission
Mission Cheese is small, wonderful cheese and wine spot down in the Mission District. With a beautiful bar and outdoor seating, Mission Cheese is a great spot to check out and fall in love with. The venue also serves a variety of prepared meats and the staff are knowledgeable and helpful in there recommendations.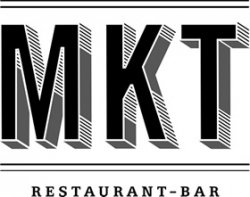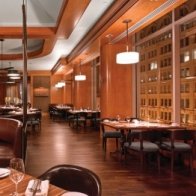 MKT at the Four Seasons
757 Market Street
Financial District
Business meetings are so much more interesting held outside of the conference room. Place your next meeting as a private dining experience and let the Four Seasons take care of everything you need. They can host semi-private parties of eight to exclusive parties of 40. With the splendid San Francisco city scape as your backdrop, especially from their Windows Private Dining Room, it's sure to ignite some interesting conversations.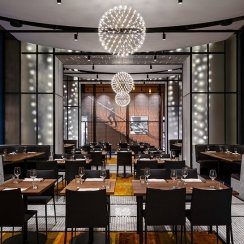 Mourad
140 New Montgomery Street
SOMA
This upscale Moroccan restaurant is located within a comfortable walking distance from Union Square on New Montgomery, just south of Market Street. The glamorous interior is the perfect backdrop for the mediterranean delights that are about to hit your table. The menu is largely family-style and each item states how many it will feed. If you're not sure what to order, try the tasting menu. But, whatever you decide upon, make sure to start with the eggplant flatbread.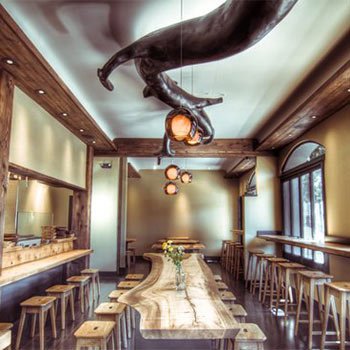 Namu Gaji
499 Dolores Street
Duboce Triangle
Namu Gaji is a new Korean American restaurant located right off of Dolores Park. The spot has a very hip vibe and is a great place to sit enjoy the comings and goings of the park. With the wide assortment of unique dishes, this is a great venue to order a wide variety of plates and share amongst a group. The long community seating arrangement make it a perfect spot for a team meeting or any other small group affair.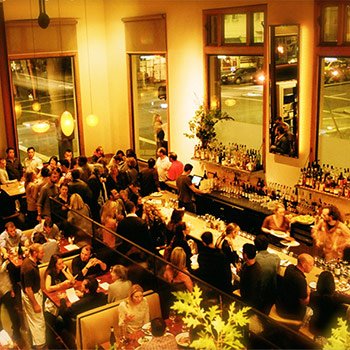 Nopa
560 Divisadero Street
Alamo Square
Nopa is a great spot to check out whether you're looking to get cocktails or grab a meal. You can't go wrong with this menu whether you're coming for brunch or dinner. A couple highlights: the custard french toast at brunch is buttery deliciousness and the rotisserie chicken is their signature dinner dish which is always a favorite.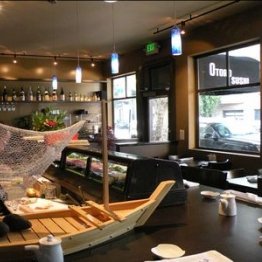 Otoro Sushi
205 Oak Street
Hayes Valley
This cozy Hayes Valley treasure is the perfect dinner spot for a pre-show bite at the SF Jazz Center or one of the venues in the Performing Arts Center. Check the board for daily specials 'cause like any other respectable sushi place, the menu changes with the availability of fresh fish.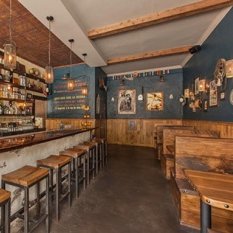 Padrecito
901 Cole Street
Cole Valley
If you take the N-Judah Muni line, it will drop you off right in front of this place. They are open for dinner all week, and brunch on the weekends. I have had pretty much everything on the menu and the duck tacos are still my favorite. This is Mexican cuisine like you have never had before, I promise. Their ingredients are super fresh and locally sourced. Don't forget to ask for the dessert menu; order the Churros. Make a reservation unless you don't mind waiting 30 minutes for a table. The noise level is a little on the high side, but with all the deliciousness in front of you, conversation may be the last thing on your mind.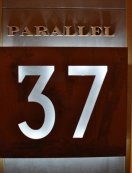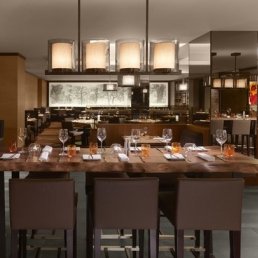 Parallel 37
600 Stockton Street
Union Square
At the edge of Union Square sits the Ritz Carlton, which is home to one of San Francisco's most popular culinary destinations. It's farm-to-table California fare at community tables. Even if you're not staying there, you might want to consider this spot for a breakfast meeting just so you can order the Dungeness Crab Eggs Benedict, which is their best dish.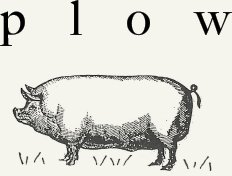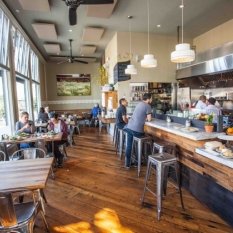 Plow
1299 18th Street
Potrero Hill
San Francisco has farm-to-table down as evidenced by the culinary geniuses that opened Plow in Potrero Hill, just minutes from Union Square. It's worth the car ride there. Everything on the menu is fresh and good! Take a friend for brunch and split the Lemon Ricotta Pancakes and Chinese Breakfast between the two of you. You'll leave happy, I promise. Oh, they don't take reservations or parties larger than 6.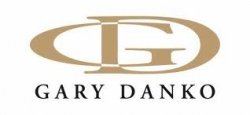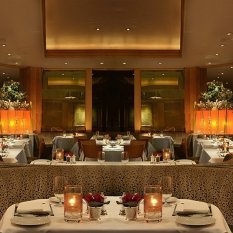 x
Restaurant Gary Danko
800 North Point
Marina
There is a two-month wait for dinner reservations, so you will have to plan ahead, a lot ahead. Once there, you can choose between a three-, four- or five-course prix fix menu. There isn't anything too crazy on the menu, just lots of good, elegant American cuisine. There is also a strongly-suggested dress code, err on the side of overly dressed and leave your jeans at home. Time and place, my friend.

Roka Akor
801 Montgomery Street
Financial District
Sushi chain restaurants aren't usually my first choice and Roka Akor in the Financial District is the exception. They call themselves a sushi place, but really they do so much more. It is fine Japanese fare with a a twist, like truffle shavings in your rolls, Wagyu Flat Iron steaks. If you need a location for your next power lunch, try the prixe fix menu they call the 'Business Set Lunch'. You can carry on your conversation and not concern yourself over the menu.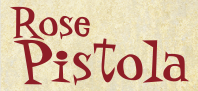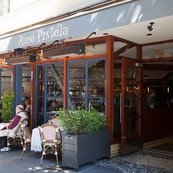 Rose Pistola
532 Columbus Avenue
North Beach
This Northern Italian inspired ristorante is located in the heart of North Beach, just minutes from Union Square. The lunch crowd usually consists of power lunchers looking for a spot outside of the financial district yet close enough to walk back to the office. Look for their weekly lunch specials, which are complete with dessert and a drink. If it's sunny out, as it often is in North Beach, ask for a sidewalk table. Take a friend and watch the diversity in the traffic passing by.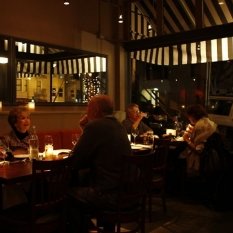 Seven Hills
1550 Hyde Street
Russian Hill
I'm not sure exactly when this place went from 1550 Hyde to Seven Hills, but I love it! It feels so much like a neighborhood restaurant that you would see in the middle of Rome. The head chef studied in Italy and it shows through in the a-mazing homemade pasta creations and other oh-so-fresh dishes that change with the seasons. Oh, he is also on the California Olive Oil Council, which means his palate is super sensitive. Farm-to-table has been perfected here. Make a reservation, meet a friend, meet a colleague and get ready for real Italian fare.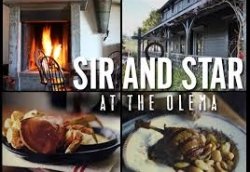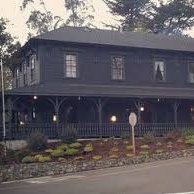 Sir & Star
10000 Sir Francis Drake Boulevard, Olema, CA 94950
Off the Shoreline Highway near Inverness North of San Francisco
Margaret Gradé and Daniel DeLong, Chefs of Mankas Lodge welcome you to SIR AND STAR, the new restaurant at THE OLEMA where they bring the bounty of West Marin to the table again with a familiar sense of gratitude and even more gusto. SIR AND STAR AT THE OLEMA is perched on the corner of Sir Francis Drake Boulevard and Star Route One. Dinner is served Wednesday through Sunday from 5 until 9pm. Saturday evening their chefs prepare a lingering meal of several small courses in the dining room, while small plates, wine, and supper are served by the fire. You are welcome to come for a sip, a nibble, or the evening. Note on Saturday, only reservations for the Chef's Meal are accepted. Guests without reservations are welcome to join in the front rooms and select from the a la carte menu." OK, enough about the details, the only thing you need to know is if the duck is on the menu please know you are in good hands. The duck, however, is in another set of hands (lucky for you) as it is in the hands of these two master chefs. This last weekend we spent an evening dining in a room filled with large tree branches suspended from the ceiling so low you had to duck (pun intended) in some places to get to your table and taxidermy birds on the walls which might borderline your having walked into an art installation. If you happen to be staying at the lodges of Manka's you will already have the feeling of being physically inserted into an environment of natural art. I will tell you, after dining & staying many times in Margaret's vision of food & place one might get the sense you are simply part of the installation - playing a role already designed by these artist - like the menu, your experience has been completely predetermined. It will be odd, slightly out of your comfort zone, mysterious, hauntingly sexy and perfectly undeniably delicious. You will never forget your experience and you will dream of the day you hope to return. The local ducks,however are not so amused.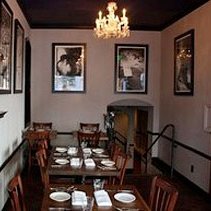 Sons & Daughters
708 Bush Street
Union Square
As the farm-to-table movement continues to shape the way we think about food, this restaurant will play a major role at least here in San Francisco. They bring to your table dishes made from ingredients found on THEIR farm. To this city dweller, that sounds phenomenal. The dining space fits just under 30 patrons and is designed to deliver a superb experience. If you're into the wine pairing thing, you will definitely be pleasantly surprised. Consider buying it out to be the location of your next private event.